A cup of piping hot tea, morning walks while bundled up in warm layers, drinking hot chocolate with marshmallows, sitting around cozy campfires in the evenings, eating roasted corn … all these indicate that winter is upon us. The cool weather is most welcome after the hot summer and long rainy months.
But as pleasant as these wintry months are, they can also wreak havoc on your hair. Dry hair, frizzy hair, scalp problems such as dandruff can all result due to the windy, cold weather and that's why special hair care in winter season is required.
The dry weather makes it difficult for your hair to retain moisture making it brittle and more susceptible to breakage and damage. Also, the woolen and winter clothing causes static which can make your hair stand on ends! But rest assured these winter hair problems can be avoided with the correct hair care routine. Find out how to care for your hair in these cold months which can help you keep those tresses glowing and flowing!
Here are some of the best hair care tips for winter. Read on…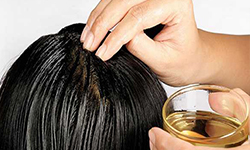 The sudden change from hot and rainy seasons to a colder climate can do a lot of damage to not only your hair but also your scalp and leave it itchy and dry. This can result in dandruff. So how to stop dandruff in this cold weather? If the dandruff is oily with big flakes then it is an indication that your hair is oily and needs a scalp cleansing. On the other hand small, flakes indicate dry dandruff meaning that your scalp needs to be moisturized more. One sure way to nourish your scalp is to put castor oil on your scalp before bed to fight off dry dandruff and encourage hair growth while stimulating circulation. Also an application of mixture of olive oil/coconut oil and lemon juice can be useful in reducing dandruff
Prevent dry hair with keratin based shampoos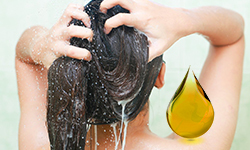 Most shampoos contain sulfate, it gives the shampoo its lather and foam. But while sulfate helps cleanse hair it also strips your hair's natural oils making hair dry and breakable. This can make your hair look dull and lusterless. So to prevent this choose a shampoo that has keratin in it. Keratin helps rebuild your hair and repairs hair follicles, giving it a soft look, especially in the winter.
Make sure you retain moisture in your hair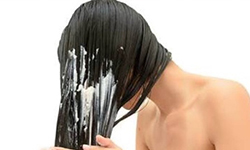 Extra cold weather strips the moisture out of your hair, especially at the ends. A good combination of a hydrating shampoo and conditioner will gently cleanse and condition dry, brittle hair, provide vital nourishment and moisturizing leaving your hair soft and shiny.
Use a hair mask to maintain dull, rough hair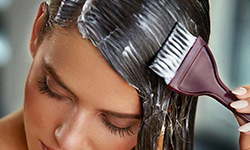 Your hair gets dull due to lack of moisture in the cold winter season. Including a hair mask in your hair care routine helps to rejuvenate dry, dull and rough hair.
Tame frizzy hair with a hair serum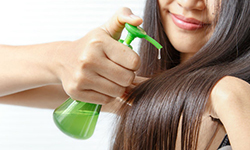 Frizzy hair is another hair problem that crops up in the colder climate. Again your hair going frizzy means that it is dry and lacks enough moisture. In addition to using a moisturizing shampoo and conditioner, include an anti-frizz hair serum that will help tame and detangle that unmanageable mane. The serum will smoothen hair giving it a silky, luminous finish.
Use dry oil to prevent static hair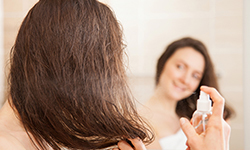 Another oft seen issue during the winter months is hair sticking to your clothes, sweater, scarf, coat etc. due to static. Static hair is also caused due to dryness. You can use dry oil spray to counter static hair. Dry oils are weightless and have natural oils that help moisturize hair, bringing back its softness and shine without weighing it down.
Use leave in conditioner to strengthen brittle hair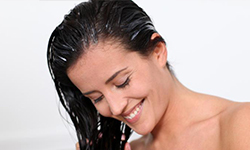 If you use a blow dryer on your hair in the winter months it can dry out your hair leaving it brittle. Using a moisturizing agent such as a leave-in conditioner (after shampooing and conditioning) helps protect your hair against dryness by locking in the moisture, taming unruly hair thus keeping your hair healthy.
Avoid using extra hot water to wash your hair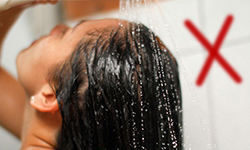 It is natural to want to use hot water while washing your hair in the cold weather. But using really hot water is not advisable as it can strip away essential oils from your hair leaving it dry and dull. Instead use lukewarm water to rinse your hair.
Avoid using heat tools on your hair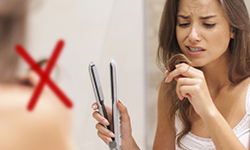 All those heating tools that you use on your hair, blow dryer, curling iron can be a bad idea, at least in the winter months. In addition to the natural dryness in the air, the heat from these products can dry out your hair to the point that it becomes brittle.
Hope you find this information and preventive tips for hair care in winter useful. In case you have any queries or hair problems do not hesitate to contact your dermatologist/skincare expert at Skin and Hair Academy