Imagine this. You are in the middle of an important meeting or a presentation and out of the blue, you get this sudden urge to scratch your head. To save the embarrassment, you try to distract yourself but you can no longer suppress the need to scratch your itchy scalp. Itchy scalp in summer is quite common and also quite annoying to anyone who faces it. Apart from an itchy scalp, you can even get a summer rash or dry, flaky skin which is rather disturbing. However, most of us often look for skin care tips to keep the skin moisturized and hydrated, and search for skin rash treatments but brush aside an itchy scalp because it is covered by our hair and easy to ignore. But have you thought about how those white flakes that fall from your head onto your shoulders can be a sign of an unhealthy scalp? Well, you are definitely not the only one.
Many of us experience dandruff, but if you catch yourself scratching your head frequently, then it could be more than just your regular dandruff. There are several other factors that could cause an itchy scalp such as dryness, bacterial infection, and ringworm among others. And an itchy scalp can even lead to excessive hair fall. In such a case, we usually turn to expensive products in the hope to get rid of the problem. But every expensive product is not always effective. Before you look for treatments and remedies for an itchy scalp, you need to understand the crux of the problem, i.e. reasons for an itchy scalp, especially during summers.
Reasons Behind An Itchy Scalp
Let's take a look at some of the main reasons behind an itchy scalp and how it affects the skin.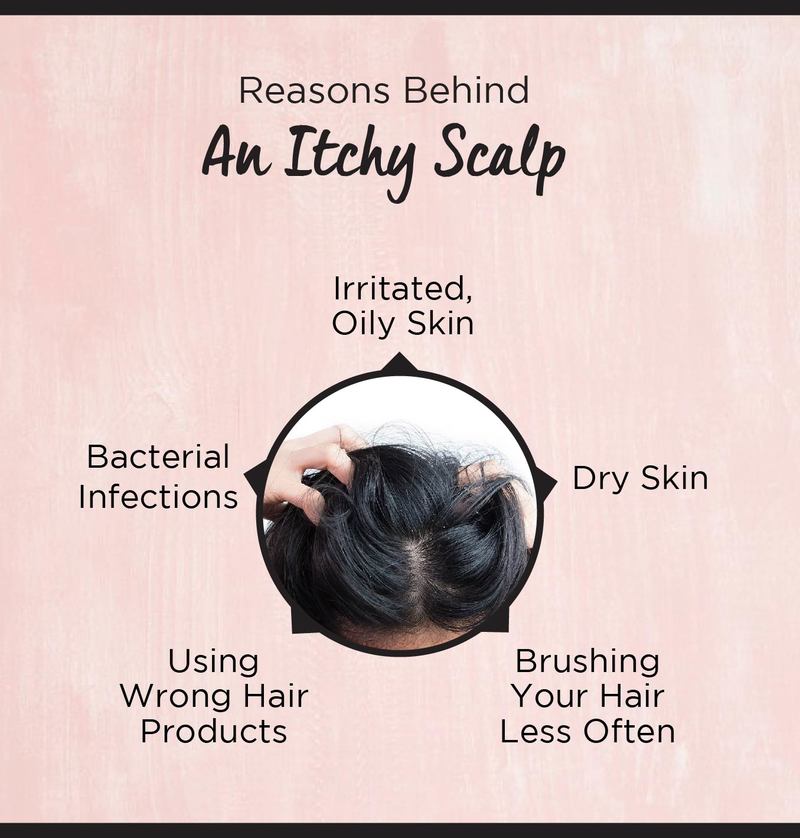 DRY SKIN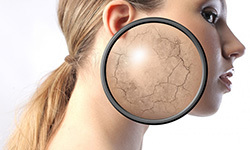 While most of us believe that dry skin is caused only during winters, summers too can rob your skin of its moisture and make it dry and flaky. Therefore, sometimes it needs that extra dose of moisture. Similarly, your scalp too can become dry and itchy. This can result in white flakes on the scalp called dandruff. When it is caused by dry skin, it falls off in smaller-sized, non-oily flakes.
IRRITATED, OILY SKIN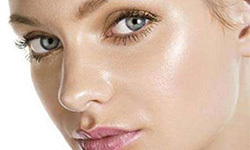 If you have irritated, oily skin, and suffer from a condition called Seborrheic Dermatitis, you are most likely to be well-acquainted with dandruff. This condition affects the scalp as it does other areas of the skin and causes scaly patches that flake off as dandruff.
NOT BRUSHING YOUR HAIR ENOUGH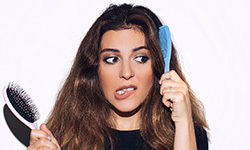 The more you brush your hair, the regular is the blood flow to the scalp thus causing normal shedding of the skin cells, in turn, reducing the risk of dandruff.
USING WRONG HAIR PRODUCTS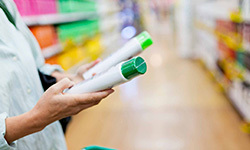 If you are still unsure as to why you suffer from dandruff and an itchy scalp, take a look at the hair products that you use. If you are not using the right hair products for your hair texture, it could lead to an inflamed, itchy scalp. Moreover, shampooing your hair too often can also cause an irritating scalp thus further inducing the possibility of dandruff. Instead, use a dry shampoo to soak up the excess oils in your hair.
Now that you are well aware of the reasons behind an itchy scalp and dandruff, it is time to take a look at some of the home remedies that will relieve you from an itchy scalp and bid adieu to dandruff as well.
Home Remedies For An Itchy Scalp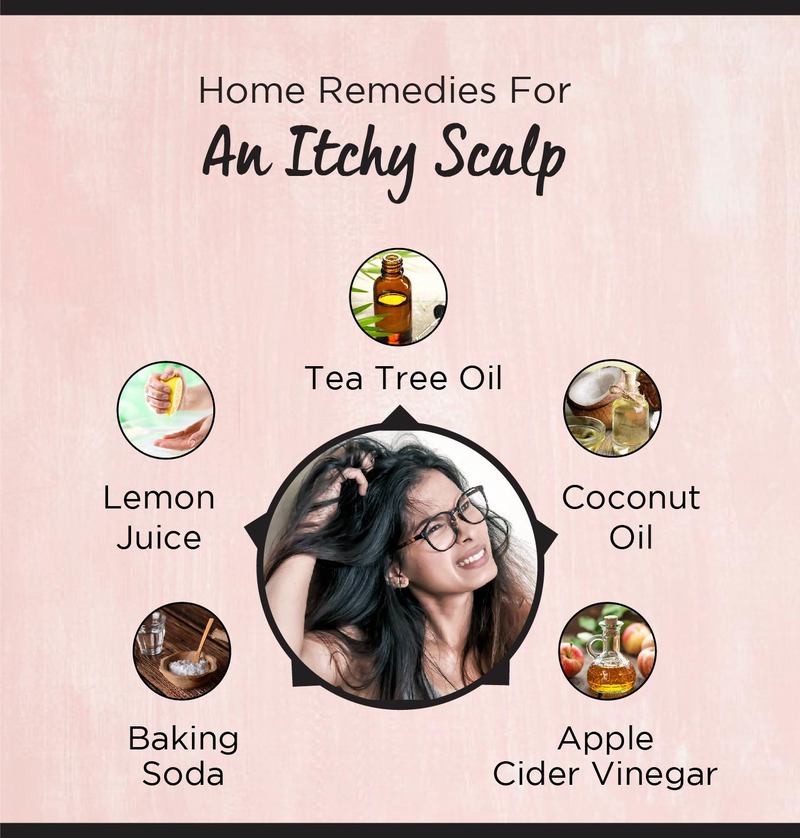 Tea Tree Oil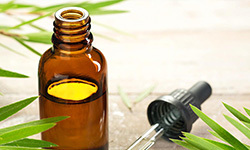 How To Apply:
Take 5-10 drops of tea tree oil in your palms
Apply it directly on the scalp
Massage it in for a few minutes and let it work its magic overnight
Rinse your hair in the morning
How Often To Apply:
Repeat this twice or thrice a week.
Why This Remedy Works?
Tea tree oil eliminates dryness and moisturizes and nourishes the scalp. It contains terpenes, which are anti-bacterial and anti-fungal in nature.
Coconut Oil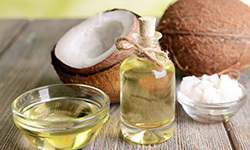 How To Apply:
Lightly heat the virgin coconut oil
Add a few drops of vitamin E oil to it to add moisture to a dry and damaged scalp
Apply on the scalp and all over your hair
Massage gently on the scalp for a couple of minutes so that the oil gets absorbed easily
How Often To Apply:
Oil your hair twice a week
Why This Remedy Works?
Oiling your hair twice a week with coconut oil keeps your scalp moisturized and keeps the itchiness causing infection at bay.
Apple Cider Vinegar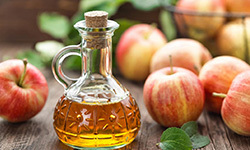 How To Apply:
Mix one part apple cider vinegar with 4 parts water
Massage this mixture on the scalp
Rinse it off
How Often To Apply:
Repeat this twice a week.
Why This Remedy Works?
The malic acid present in Apple Cider Vinegar cleanses the scalp and acts as an astringent and with its anti-bacterial and anti-fungal properties removes all the dead cells from the scalp that are causing itchiness.
Lemon Juice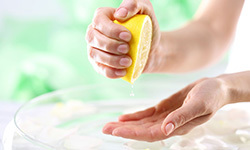 How To Apply:
Take 2-3 tablespoons of fresh lemon juice
Apply it all over your scalp with a cotton ball
Leave it on for about 5-10 mins and then rinse with water
How Often To Apply:
Repeat this once or twice a week, max. Remember, excessive use of lemon on your hair can lighten your natural hair color.
Why This Remedy Works?
The phytochemicals in lemon juice have an anti-inflammatory effect when applied on the scalp thus reducing the infection and itchiness.
Baking Soda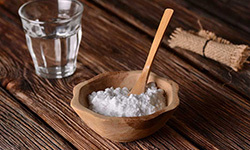 How To Apply:
Take 2-3 tablespoons of baking soda and mix it with water to form a paste
Apply this paste on the scalp and let leave it on for 10-15 mins
Rinse it off immediately
How Often To Apply:
If required, repeat this again after a few days.
Why This Remedy Works?
An anti-bacterial and an anti-fungal agent, baking soda kills the harmful microbes on the scalp that cause the infection, itchiness, and hair fall.
An itchy scalp is common and more often than not it can be treated at home. However, sometimes it can require medical attention. Try these home remedies first and relieve your dry, itchy scalp plus dandruff. But if your symptoms still remain, consult a dermatologist at the Skin and Hair Academy for expert advice and treatment. Of course, hopefully, these home remedies will be just what you need. In case you need further treatment, get in touch with a dermatologist here: https://www.skinandhairacademy.in/