Summers may all be about sunshine and vacations but they can wreak havoc on the skin while you are busy flaunting your new tan. While all of us are quite aware of what precautions need to be taken when it comes to skincare, haircare almost goes for a miss. The effects sun has on your hair are plenty and they are anything but pleasant. You may have healthy, bouncy, thick tresses all year round, but come summer and your hair turns brittle and almost lifeless. The reason? The humidity content in the air is so high that it settles on your hair, weighing it down, thus resulting in dull, limp hair.
Summers are tough on your hair, regardless of whether you it is a dry climate or a humid one. Nourishing and nursing your hair back to health after summers with the usual hair spa treatment can be beneficial up to a point but there are other ways you can lock in the moisture in your beautiful locks during and after summer. There are different types of hair spa treatments or hair care routines that will prove beneficial to you depending on your hair type. But before you jump to look for ways that will undo the damage from the sun, understanding the effects of the sun on your hair is equally important.
Effects Of The Summer Sun On Your Hair
1. Excessive sweating during summers can cause your hair to become greasy
2. During the peak hours of the day, your hair tends to get burnt if you stay outdoors for too long
3. Sweat and grime can increase other hair problems such as dandruff, hair fall, split ends and even frizz
4. Summers can be harsh on the scalp, robbing it of its moisture and making it dry
5. If you have coloured hair, the colour could fade away if you stay outdoors too long
As you can see, the summer sun can be a nightmare for the hair so it is essential you avoid sun exposure for long periods of time, and protect and cover your hair at all times while stepping outdoors.
Overexposure to the sun's harmful UV rays, humidity, sweat, and spending too much time in the chlorinated water of the swimming pool are some of the many ways in which our hair gets damaged in the summer sun. This is reason enough to have a bad hair day every day for the rest of your life. But if you love your gorgeous tresses, a little hair care would not hurt.
A home hair spa works wonders on your hair but there are certain pre-emptive measures you need to take to protect your hair from the summer sun. More often than not your beautiful hair turns into a frizzy nest in humid conditions, so to tame your out-of-control tresses use hair products that control humidity and lock in the moisture. Secondly, if you have colored hair it is advisable to use color-safe products on your hair, especially during summers. Additionally, using hot styling tools on your hair during summer is a big NO!
If you still wish for those beautiful curls, just wash or wet your hair before going to bed, then pile it up in a bun or braid on top of your head. You will have gorgeous beachy waves in the morning. Now, there is no better time to deep condition your hair than in summer. Even though your scalp is oilier than usual, the ends of your hair usually bear the brunt of the summer sun. So, deep condition your hair once or twice a week depending on the overall condition of your hair.
Pro-Tip:
Before you use any hair products, check for a couple of things first such as scalp type and hair type. To understand more about hair care in summer, read: Hair Care Tips For Summer To Keep Your Hair Healthy And Bouncy
Let's take a quick look at some of the best ways you can protect your hair during summers.
Avoid using too many hair products
Shampoo gently
Condition the hair well
Take a trim
Avoid hot styling products
Use sun protection
Drink lots of fluids
Go for deep-conditioning treatments
Use the right hair products
.Style the hair in easy hairstyles
The easiest and probably the most inexpensive way to keep your hair hydrated during summers is to take a hair spa at home. Of course, a hair spa is not just about the head massage or an oil treatment, there is more to the process than is known. A good hair spa provides the right nutrients to the hair. The four essentials of a home hair spa are:
1. Oil Massage
2. Shampoo
3. Mask
4. Conditioner
Let's take a look at the five steps to a home hair spa.
5 Steps Of A Home Hair Spa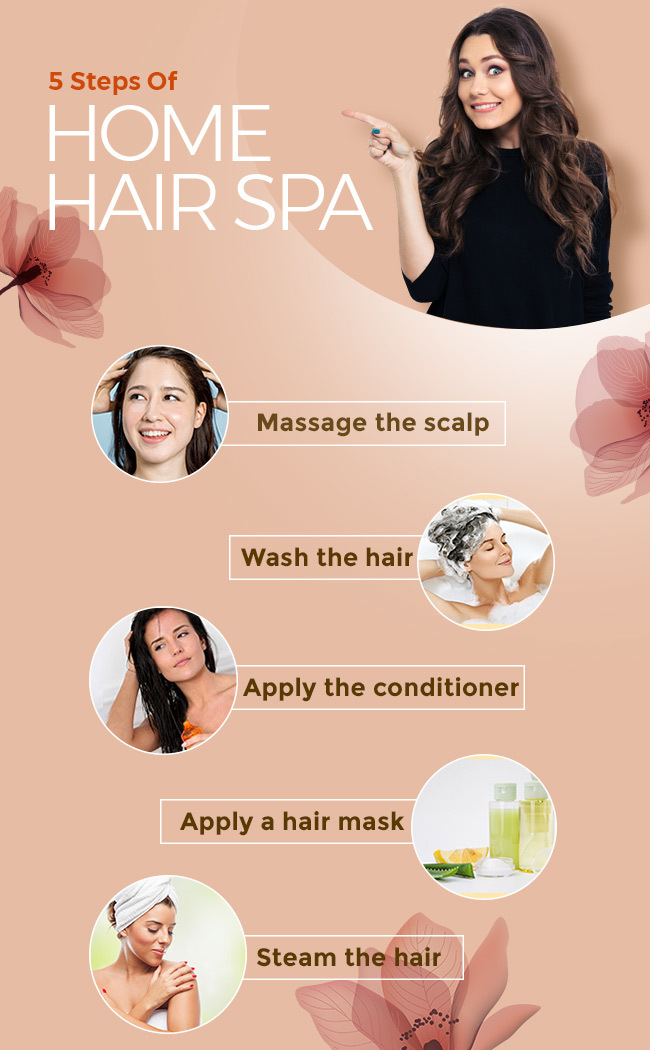 Now that you are aware of the steps to take to protect your hair during summers and how to do a hair spa at home, let's take a look at some of the homemade masks you can use on your hair during your hair spa treatment at home.
Homemade Masks For Hair Spa Treatment At Home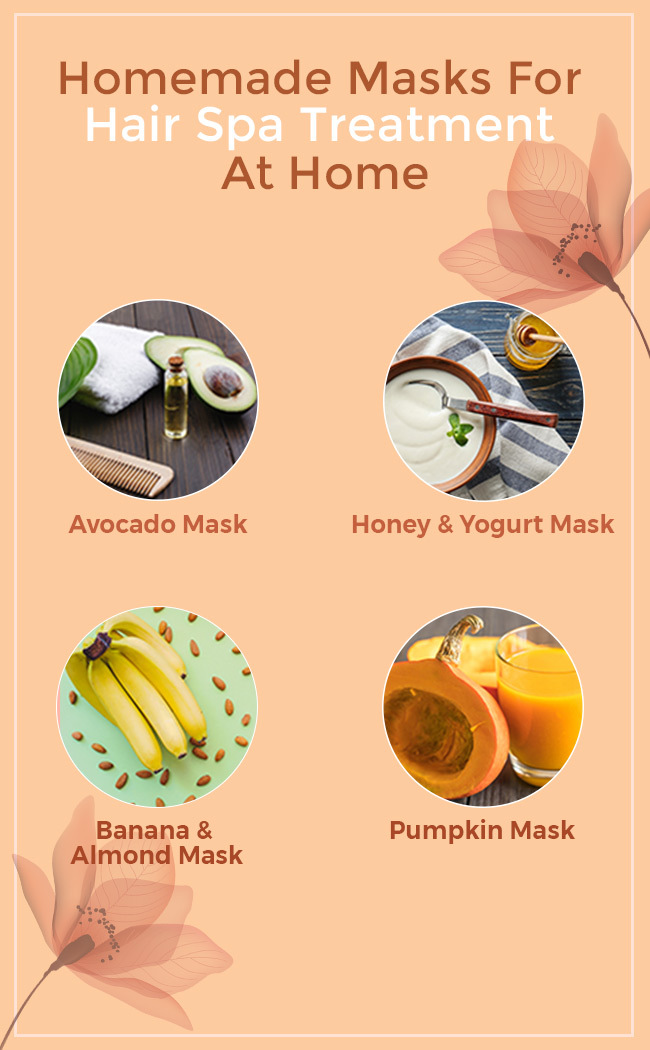 These hair masks will lend softness to your hair and also promote hair growth while keeping the scalp moisturized. Now that you are equipped to protect your hair from sun damage during summers, you can head out without a worry.For more summer hair care and skin care tips, visit Skin & Hair Academy.