Some of us have converted this self-quarantine period into a time of self-transformation by picking up new hobbies and skills, focusing on daily fitness, eating healthy, home-cooked food, and pampering our skin and hair with self-care.
On the other hand, being cooped up at home for weeks on end may make some others feel lethargic and get lazy with their daily routine, leading to neglecting their fitness, diet, skin care and hair care.
But don't worry. We're here to tell you exactly how you can avoid the above scenario with 6 of the easiest, simplest tips for maintaining healthy skin and hair at home.
Take a look!
Easy Skincare At Home
1: Stick With A Gentle Routine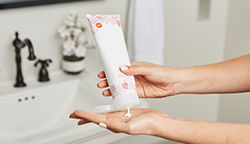 Keep Bath Times Short – Hot, long showers can strip your skin of its natural oils and weaken your protective skin barrier. Use lukewarm water and try to limit your shower time.
Use A Mild Soap & Facial Cleanser – Choose pH balanced body and face washes that soothe and hydrate as they cleanse.Our Top Pick: Episoft OC Cleansing Gel For Oily/Acne-Prone Skin

This soap-free cleansing gel deep cleanses your pores, balances excess oil, helps heal blemishes, and prevents further acne breakouts. Its pH balanced, moisturising formula doesn't let your skin feel dry or irritated. The non-comedogenic face cleanser (which means it doesn't clog pores) is also free from fragrances & sulphates.

Our Top Pick: Episoft Cleansing Lotion For Dry/Sensitive Skin

This gentle, soap-free face cleanser thoroughly clears dirt, dead skin cells and excess oil without leaving your skin dry or irritated. You'll love how your skin feels soft and supple thanks to its pH balanced, moisturising formula. The cleansing lotion is non-comedogenic and free from fragrances and sulphates.

Moisturise Every Day – After bathing, gently pat your skin dry with a towel while leaving some moisture on your skin. Apply a hydrating body lotion immediately after a bath. You can reapply whenever your skin starts to feel dry.Our Top Pick: MaxRich Intensive Moisturizing Lotion

This body lotion offers ultra-light, non-greasy and fast-absorbing moisturisation to last all day long. It increases moisture retention and prevents water loss by repairing your protective skin barrier. Its antioxidant-rich blend of mango butter, shea butter & cocoa butter keeps your skin healthy and hydrated. Plus, it's fragrance-free and paraben-free!

Protect Your Skin – The quarantine life comes with working from home, scrolling on your phone or binge-watching shows. But you should also be aware that your digital screens and electronic gadgets emit infrared radiation that can cause skin damage. Even at home, invest in a sunscreen that is specially formulated for infrared protection.Our Top Pick: La Shield IR Sunscreen Gel SPF 30

This water-resistant, broad-spectrum sunscreen gel is fortified with SPF 30 and PA ++++ to keep you protected from indoor IR radiation and the sun's UV radiation. Its moisturising formula hydrates your skin, prevents degradation of collagen and offers antioxidant protection, thus delaying the signs of ageing. It's also oil-free, non-comedogenic, and free from parabens and other skin irritants.
2: Eat Fresh, Home-Cooked Meals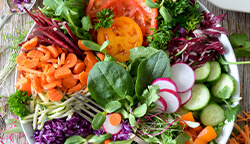 Cook Healthy, Whole Foods – It's the perfect opportunity to don your chef's hat and experiment with your culinary skills. Buy essential groceries like fruits, vegetables, proteins and whole grains and prepare healthy meals from scratch.
Snack Right – Do not bring home unhealthy, processed junk from your shopping trip. This way you cannot binge-eat (out of boredom) even if you feel like it. Instead snack on nuts and dry fruits or whip up delicious, nutritious smoothies.
Don't Eat At Unearthly Hours – Eating right and eating at the right time will promote healthy and clear skin as well as help you stay energetic and fit.
Stay Hydrated – Don't forget to drink plenty of fluids. You can treat yourself to fruit-infused water or upgrade to a refreshing summer quarantini sans the alcohol, such as a watermelon cooler or a virgin pina colada.
3: Manage Stress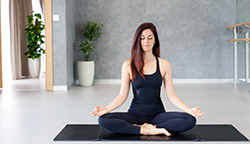 Practise Yoga/Meditation – The current situation can lead to a state of panic and stress, which in turn can be responsible for acne-breakouts and other skin issues. Keep aside at least 10 minutes in a day for deep-breathing and calming exercises to improve your mental well-being.
Exercise In Any Way – Exercising boosts happy hormones, improves blood circulation and gives you glowing, flushed skin. You don't have to go for a tiresome workout routine. Just put on some music or follow a dance video and groove to the beats. If you have a pet, run around and play with them.
Do What You Love – Slow down and revisit a hobby you never had time for before. It could be arts, painting, crafts, gardening, playing a music instrument or cooking. Don't feel pressurised to accomplish new skills. Remember to do what keeps you happy.
Sleep At The Right Time – This is the #1 reason for baggy eyes, dark circles and dull, tired-looking skin. Don't spend sleepless nights because you had to finish a movie/series marathon. Hit the bed early and get at least 8 hours of rest every night.
Easy Hair Care At Home
1: Be Gentle With Your Hair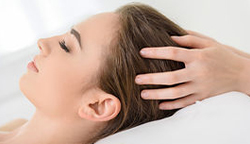 Massage Your Scalp – Pamper your hair with an overnight hot-oil treatment. Massaging your scalp increases blood circulation, releases stress and promotes hair growth.
Shampoo & Condition As Per Your Hair Texture – How often you wash your hair completely depends on your hair and scalp health. If your hair is dry, wash once or twice a week, and if you have an oily scalp, wash more often. Choose gentle hair care products that suit your hair texture and avoid harsh ingredients like ammonium lauryl sulphate or sodium lauryl sulphate. Use lukewarm water while washing and condition your hair, if required, after shampooing.
Dry & Brush Your Hair Right – Don't handle your hair with rough hands when it's wet. Towel-dry your hair very gently or allow it to air-dry whenever possible. Use a hair-dryer sparingly and on the lowest heat setting, gradually increasing the heat as required. Once your hair is dry, brush slowly with a wide-toothed comb to detangle. Avoid excessive brushing as it can cause hair-breakage.
Go For Comfortable Hairstyles – Tight ponytails can apply stress and weaken your hair from the roots. Also, keep changing the spot where you fasten your hair with pins or clips to prevent hair-breakage in that area. Since you're home all day, opt for loose, fuss-free hairdos.
2: Add Healthy Hair Nutrition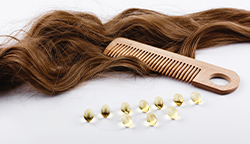 Eat a balanced diet full of vegetables, leafy greens, fruits, whole grains, beans and legumes, nuts and seeds, dairy such as milk, yogurt and paneer, lean meat, poultry, eggs and fatty fish like salmon, sardines, and herring. Include sources of food that are rich in protein, vitamins A, B, C, E & antioxidants, essential fatty acids, and minerals like iron, zinc and selenium.
3: Cut Out Bad Habits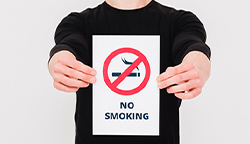 An unhealthy lifestyle can lead to hair fall and hair issues. Make sure you sleep on time, exercise daily and manage stress levels. Avoid excessive alcohol, smoking, and crash diets or damaging food fads.
We hope you enjoyed this simple skincare and hair care routine at home. For more such articles on skin care tips and hair care tips to keep you motivated and get you through this quarantine season,
visit https://www.skinandhairacademy.in/