As we welcome the hottest season of the year, we unknowingly also give an open invitation to unwelcome guests like suntan, pigmentation, patchy skin, and many others. And unfortunately, sometimes, they become a permanent fixture in our life. However, you can shut the doors to these unruly skin problems before they start growing on you, quite literally. Summers are warm and sunny but can bring with them those unwanted tan lines. While you are basking in the sun, remember there are certain precautions you should take before it is too late to save your skin from the harmful effects of UV rays.
Firstly, let's understand what is sun tanning and how it affects your skin.
Direct exposure to the sun can damage your skin and make it a shade or two darker than its usual tone thus giving you tan lines and patchy skin. Although Vitamin D is essential for us, harmful UV rays are not. Excessive exposure to UV radiation can increase the melanin content of your skin and can also cause sunburn which can leave your skin with painful red spots all over it. If you get tanned easily and frequently, it can also lead to skin cancer, immune system issues, and change the appearance of your skin making it look blotchy and full of wrinkles.
While we often worry about how we look, we only pay serious attention to how our face looks and more often than not neglect our neck. If your face can tan, so can your neck and there are a bunch of reasons that can cause your neck to tan. Some of them include,
Causes of Tan Neck
Poor Hygiene.

Long Exposure To Sun.

Environmental Pollution.

Chemicals In Beauty Products.

Obesity.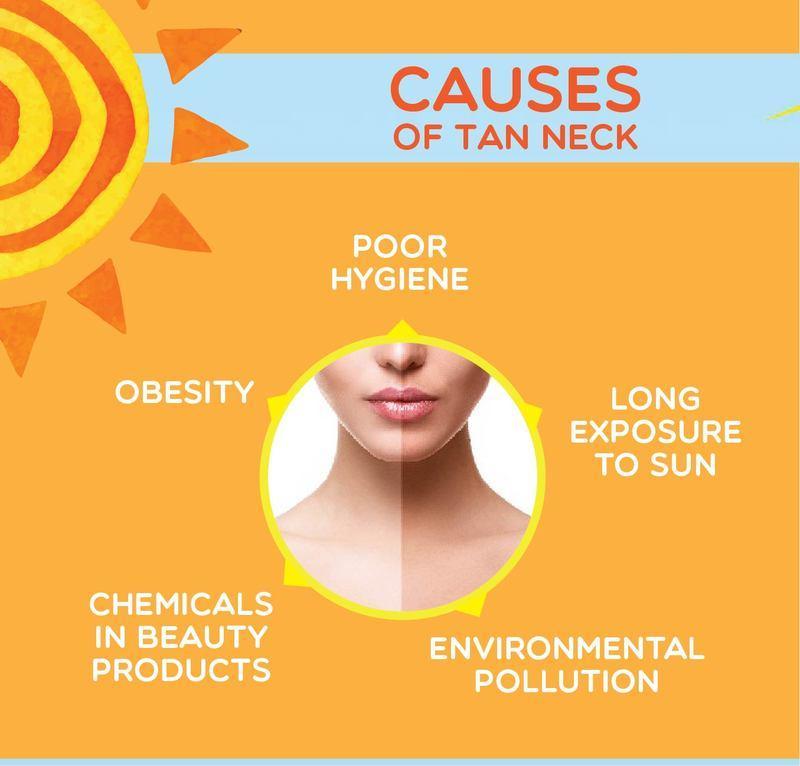 Moreover, eczema and fungal infections are two of the major causes behind darkening of sensitive body parts like your neck. Of course, there are several home remedies that can alleviate the darkening of your skin on the face and even your tanned neck.
So, let's take a look at these remedies that will remove tan from your face and neck naturally. Now, these home remedies can contain ingredients that you might be allergic to and can cause your skin to break out due to some reaction. It is therefore strongly advised to check with your dermatologist before you experiment with any of these home remedies listed below.
Tips To Remove Tan From Face & Neck Naturally
A glowing, flawless skin usually falls prey to suntan, especially during summers. While there are several treatments and procedures to remove sun tan, there is nothing better than getting an inexpensive treatment in the comfort of your own home – home remedies! Usually, you will find these home remedies to be effective in the long run and affordable too since most of the ingredients can be found in your kitchen itself.
Let's take a look at some of these homemade tan removal packs that will help your skin get back its natural skin tone.
1. Yogurt + Tomato Face & Neck Pack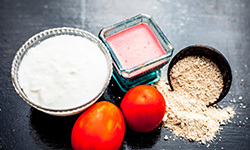 • Mix 2 spoons of tomato pulp with 1 spoon of lemon juice + 1 spoon of yoghurt
• Apply the pack to your face and neck
• Wash after about 30 minutes
2. Milk + Turmeric Face & Neck Pack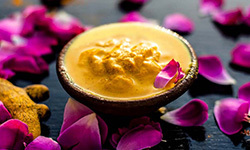 • Take raw milk and add a pinch of turmeric to it
• Apply this to your face and neck, and also other tanned areas on your skin
• Let it dry completely before rinsing it off with cold water
3. Papaya + Honey Face & Neck Pack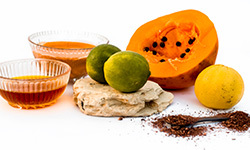 • Mix papaya and honey to make a paste
• Apply the paste to your face and neck
• Wash it off with cold water for best results
4. Almonds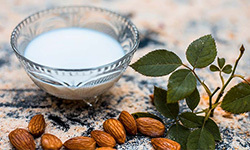 • Grind pre-soaked, pre-peeled almonds and add some milk to it to get a smooth paste
• Apply the paste on your face or neck
• Leave it overnight and rinse it off with cold water for best results
5. Lemon Juice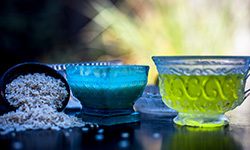 • Take warm water and add lemon juice to it
• Use a cotton ball to apply the mixture to your face and neck
• Leave it on for about 15 mins and wash it off with cold water
6. Cucumber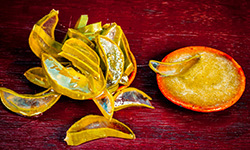 • Add 2 spoons of cucumber juice to 1 spoon of lemon juice
• Add a pinch of turmeric to it
• Make a paste and apply it to your face and neck for 30 minutes
• Rinse it off with cold water
As discussed before, there are various tan removal treatments and procedures available on the market but home remedies work the best to ensure your skin remains hydrated without seeping out its natural moisture. Glenmark's La Shield Sunscreen Gel SPF 40 and other variants of La Shield Sunscreen Gel offer matte finish, are dermatologist recommended, and are suitable for all skin types which makes it one of the best products to protect your skin from tanning and other harmful effects of UV rays. Therefore, before you step out in the sun be sure to carry your sunscreen with you and keep your skin protected against the damaging effects of the sun.
As they say, prevention is better than cure so instead of looking for ways to remove sun tan, you can also look for ways to prevent tanning. Here are some preventive measures you can take for tanning rather than spending time on treatment.
Avoid outdoor activities at peak time of the day, i.e. when the sun shines the brightest.
Wear bright coloured clothes for better protection against the sun.
Wear full length clothes to avoid your skin form getting exposed to the sun.
Use a sunscreen with a higher SPF than 30 like La Shield Sunscreen Gel SPF 40.
Reapply your sunscreen every couple of hours.
Always carry sunglasses and hats for some extra protection against the sun.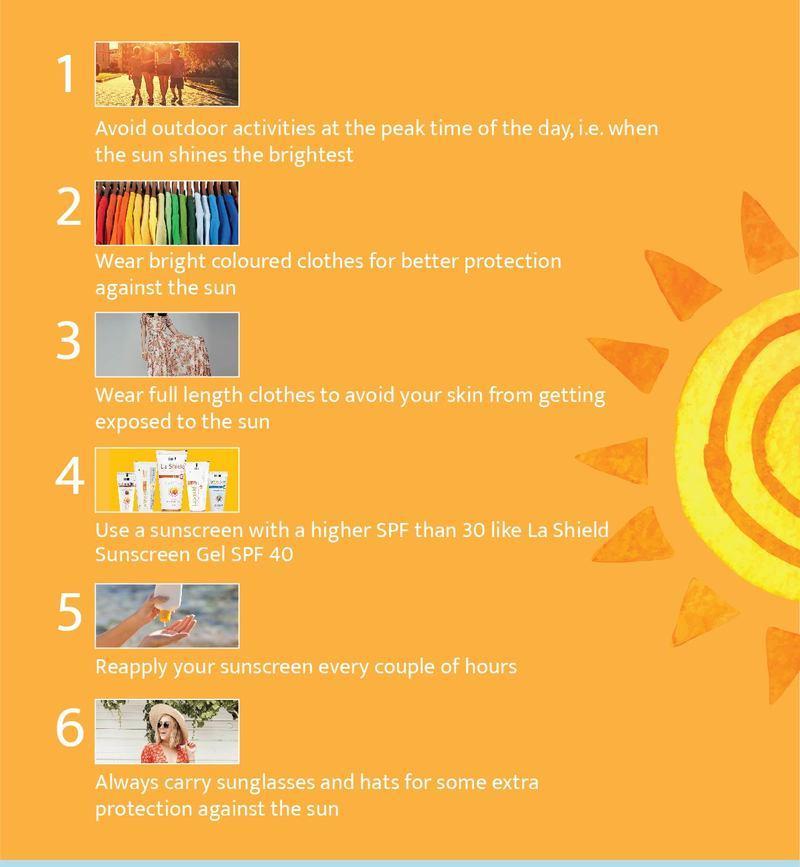 If you do not take the right care, suntan is inevitable. However, if you follow these useful tips to prevent suntan or if you are a little too late to the party, remove sun tan, then you can ensure your skin remains protected, hydrated, and moisturized for a flawless, radiant look. These are some effective sun tan removal home remedies that you read about today.
But if you are pressed for time and home remedies seem a distant dream, always carry an effective sunscreen lotion or gel as part of your skincare essentials as it helps protect your skin efficiently from the sun. Don't let summers steal your radiance and glow.
Video of the day