It may not feel like summer – as we're all still stuck indoors – but that doesn't mean that the hot temperature and the dry weather aren't going to affect us. Since we cannot indulge in the best part of our summer (the holidays), we may as well invest all the time we have at home in self-care!
During summers, the harsh heat can sap our hair of its moisture, leaving it dry, dull, and brittle. On the other hand, humid summer can turn your hair into a frizzy, unruly mess. Summer also equals excessive perspiration which can cause your scalp to get greasy and oily. Sweat and oil attract grime and dust, leading to other hair problems like dandruff, hair fall, and split ends.
It's clear that this season can wreak havoc on our hair. So how exactly can we protect our hair from the effects of this harsh weather?
With so much information being bombarded at us through the internet, it becomes harder than ever to choose what to follow. But don't worry. Skin & Hair Academy has you covered during this summer self-quarantine period. We bring you everything you need to know about hair care in one comprehensive summer blog. Let's take it from the top!
Summer Hair Care: Myths V/s Facts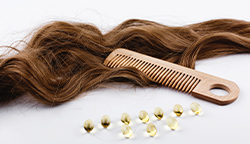 We begin by busting some common hair care myths.
Myth #1 :
You can treat split-ends.
Fact: You can prevent split-ends from occurring in the first place, but you can't repair strands that are already frayed. The only way to get rid of them is to trim your hair or use moisturizing products to mask their appearance.
Myth #2 :
Regardless of your hair type, you should brush your hair daily.
Fact: Regular brushing can help spread natural oil evenly through your strands, but overdoing it can lead to breakage. Rough or excessive handling pulls strands from the roots and weakens your hair. It's important to know what suits your hair type.
Myth #3 :
Too much shampooing can cause hair fall.
Fact: The real culprits behind your hair fall could be your stress levels, nutrient deficiencies or hormonal imbalances. Shampooing may aggravate shedding but cannot cause hair fall on its own.
Myth #4 :
Frequent trimming promotes faster hair growth.
Fact: Cutting your hair has no impact on the rate of growth. A regular trim prevents split-ends and keeps your hair healthy and easier to manage.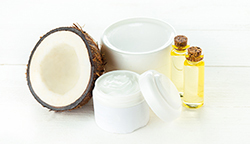 Let's move on to the 12 hair care essentials you need to follow to prevent damage and flaunt shiny, nourished, bouncy locks all summer long.
Do not go overboard with hair care products
Choose products that suit your scalp & hair type
Treat your scalp to hot oil massages before a wash
Shampoo gently with lukewarm water
Condition the ends of your hair
Indulge in home-made hair spas once a week
Trim your hair to get rid of split-ends
Avoid blow dryers and heat-styling tools
Go for loose and comfortable summer hairstyles
Apply a sun-protectant spray before stepping out:
Cover your hair with a scarf, cap or hat outside:
Drink lots of fluids & eat fresh, healthy, home-cooked food:
Home Remedies For An Itchy Scalp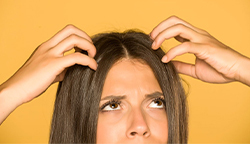 An oily, greasy scalp or dryness can lead to itchiness, irritation, or infection. You can use these items from your pantry to whip up soothing home remedies.
Tea Tree Oil
Tea tree oil contains terpenes, which are anti-bacterial and anti-fungal in nature. This oil moisturizes and nourishes the scalp to combat dryness.
How To Apply:
Take 5-10 drops of tea tree oil in your palms
Massage it on your scalp for a few minutes and leave it on overnight
Rinse your hair in the morning
Repeat this twice or thrice a week

Coconut Oil
Coconut oil is anti-microbial and provides deep nourishment to your scalp and hair to keep itchiness and infection at bay.
How To Apply:
Lightly heat virgin coconut oil
Add a few drops of vitamin E oil to it
Apply on your scalp and massage gently for a couple of minutes
Leave it on overnight and shampoo in the morning
Oil your hair twice a week

Apple Cider Vinegar
The malic acid present in Apple Cider Vinegar acts as an astringent that cleanses the scalp and gets rid of dead skin cells causing flaking and itchiness. Its anti-bacterial and anti-fungal properties fight infection.
How To Apply:
Mix one part apple cider vinegar with 4 parts water
Massage this mixture on the scalp
Rinse off
Repeat this twice a week

Lemon Juice
The phytochemicals in lemon juice have an anti-inflammatory effect when applied on the scalp, thus helping reduce itchiness and infection.
How To Apply:
Take 2-3 tablespoons of fresh lemon juice
Apply it all over your scalp with a cotton ball
Leave it on for about 5-10 minutes and then rinse with water
Repeat this once or twice a week

Baking Soda
An anti-bacterial and anti-fungal agent, baking soda targets the harmful microbes on the scalp that cause infection, itchiness, and hair fall.
How To Apply:
Take 2-3 tablespoons of baking soda and mix it with water to form a paste
Apply this paste on the scalp and leave it on for 10-15 minutes
Rinse it off immediately
If required, repeat this again after a few days
Easy, Comfortable Hairstyles To Breeze Through The Summer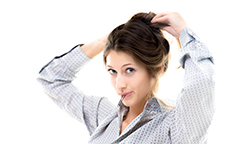 With so much time on hand, you can try acing your style game while keeping the heat away with these quick summer hairdos.
Leave your hair loose at the back and tie tiny braids starting from both sides of your ears. Finish this cute look with statement bohemian earrings and a picture for the 'gram!
Create voluminous fish-tail plaits on either side, reminiscent of the '70s. Tug at a few strands to keep it messy and casual.
This is the best summer hairstyle for keeping cool and staying fuss-free. Divide your hair into top and bottom sections at the back, and tie each into a ponytail. Twist the ponytails around each other in a counterclockwise fashion and fasten them with bobby pins.
If you're looking for something flirty and fun, a ribbon is the perfect summer accessory. Tie a simple low pony, style it with a colourful ribbon, and you're all set!
Healthy Summer Mocktails To Keep You Refreshed & Hydrated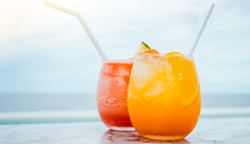 Need to fix yourself a quarantini? You can choose from our healthy mocktail versions of these refreshing, antioxidant-rich summer coolers.
Virgin Pina Colada
Ingredients
1 cup pineapple juice
1 cup of freshly cut pineapple pieces
2 ripe bananas
½ cup coconut milk
3 cups of ice cubes
Pineapple wedges for garnishing
Method
Blend the pineapple juice, cut pineapple pieces, bananas, coconut milk and ice cubes in a mixer.
Pour the drink into a glass
Garnish with pineapple wedges and serve chilled!

Watermelon Cooler
Ingredients
1 small to medium-sized watermelon, cut into even cubes
2 ½ cups of unsweetened almond milk
Fresh mint sprigs for garnishing
Method
Keep the watermelon cubes in the freezer overnight
The next day, blend the frozen watermelon cubes and almond milk in a mixer.
Pour the drink into a glass
Garnish with fresh mint sprigs and enjoy!

Pineapple & Orange Punch
Ingredients
¼ cup of fresh orange juice
1 cup of fresh pineapple juice
A teaspoon of honey
Freshly chopped cilantro for garnishing
Crushed ice cubes
Method
Add the crushed ice and pineapple juice in a cocktail shaker
Pour in the orange juice and stir in one teaspoon of honey
Shake, shake, shake and mix the drink well
Serve in a tall glass and sprinkle chopped cilantro on top
Cheers!
We hope you loved our detailed routine for summer self-care for your hair. Stay home, stay safe and stay hydrated this season! If you want to know how to prevent hair loss, dandruff, or oily hair, you can browse through our extensive summer skincare and hair care articles on www.skinandhairacademy.in