Your tresses need some TLC every now and then, and now just with a hot oil massage or hair spa. A nourishing hair mask, applied topically, can help moisturize dry hair, add some volume and a healthy sheen. And no, you don't need a trip to the salon or an expensive over-the-counter haircare product. You can create these 3 masks with just a few ingredients – most of which you will have on hand, right in your kitchen.
1. EASY EGG HAIR MASK (Eggs + Lemon Juice)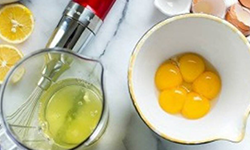 Well, we all know that eggs are a protein powerhouse, and perhaps one of the most economical sources of it. Egg whites contain amino acids, which have multiple benefits – amino acids smoothen follicles, nourish the scalp, and moisturise dry hair.
Egg yolks are rich in good fats, and the fatty acids moisturize the scalp and help fight dandruff and flaky scalp. The lecithin in eggs helps reduce frizz and keeps your hair from drying out after a wash. Then, there's sulfur – the chemical that gives eggs that unpleasant eggy smell. Sulfur may not smell great, but it stimulates hair growth from the roots.
The Mask
2-3 egg whites for oily hair, or 1-2 whole eggs for dry hair 2-3 drops lemon juice
What to do:

Take 1 to 3 eggs depending on the thickness and length of your hair.
Take the eggs/egg whites and beat until frothy
Add in a few drops of lemon juice
Apply this mixture to your hair and scalp, massaging gently to spread it evenly
Cover your hair with a shower cap and leave in for about 20 minutes Rinse off with cold water.
2. BASIC BANANA HAIR MASK (Banana + Lemon Juice + Honey + Olive Oil)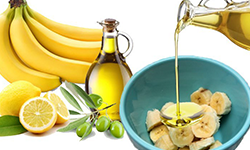 The humble banana is a pint-sized powerhouse when it comes to nutrition. Whether you eat it, apply it on your face or hair, there are several benefits. Bananas contain amino acids that act as a shield against surface environmental damage. Bananas are also rich in Vitamin A and potassium, which are easily absorbed by your scalp, moisturising and nourishing it from within. It also helps combat dandruff. Bananas also have a good percentage of citric acid, carbohydrates, and natural oils which keep your tresses shiny.
The Mask
You will need:

1 to 2 peeled bananas, depending on the length of your hair
2 teaspoons lemon juice
2 teaspoons honey
2 teaspoons olive oil
Mash the banana in a bowl or puree it in a blender until there are no lumps.
Add the lemon juice, honey and olive oil, so that the mixture becomes thick and creamy
Massage thoroughly into your hair and scalp, and leave it in for 15 to 30 minutes.Rinse off with shampoo and conditioner.
3. NOURISHING AVOCADO HAIR MASK (Avocado + Olive oil + Lemon Juice)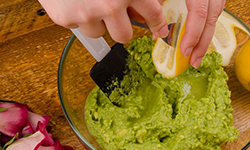 Avocados have the twin benefit of both preventing hair loss and stimulating hair growth. Since they are rich in healthy fats and natural oils, the nutrients in avocados are easily absorbed by the skin and scalp. Avocados condition and moisturise dry, damaged and frizzy hair. They also contain Vitamins E and B. Vitamin B promotes hair growth, and Vitamin E nourishes the scalp, right from the root.
The Mask
You will need:

Any kind of avocado
¼ cup olive oil
1 tablespoon lemon juice
Mash all the ingredients in a bowl to make as smooth a paste as possible.
Apply this mixture onto damp hair.
Leave in for 20 minutes, then rinse off with shampoo.
So, save yourself a trip to the salon, and try these at-home treatments instead! You can learn more about hair loss and DIY treatments on our blog, or get answers to dry scalp issues and hair loss by getting in touch with an expert at Skin and Hair Academy!
References:
1.This DIY Protein Hair Mask Will Add Volume + Shine To Parched Summer Strands-&https://www.mindbodygreen.com/articles/diy-egg-white-hair-mask-for-shine-and-volume
2. MAKE YOUR HAIR GO BANANAS WITH THIS AT-HOME HAIR MASK-http://thechalkboardmag.com/make-your-hair-go-bananas-with-this-at-home-hair-mask
3. Natural Home Remedies for Damaged Hair With Banana & Avocado-https://www.livestrong.com/article/116500-natural-home-remedies-damaged-hair/
4. 12 beauty benefits of banana : How to use banana in your beauty applications, beauty uses of bananas- http://fitlife.expertscolumn.com/12-beauty-benefits-banana-how-use-banana-your-beauty-applications-beauty-uses-bananas
3. Avocado for Hair Growth-https://www.livestrong.com/article/410882-avocado-for-hair-growth/
4. Here's What an Avocado Hair Mask Does to Your Hair-https://www.allure.com/story/diy-avocado-hair-mask
5. 5 Easy DIY Hair Masks to Whip Up in Your Kitchen–http://www.instyle.com/hair/diy-hair-masks-recipes-try-home#1172071
6. 12 All-Natural Hair Moisturizers That You Can DIY-https://www.brit.co/diy-hair-moisturizers/
7. Fall Beauty Prep: 3 Moisturizing Hair Treatments-https://blog.freepeople.com/2013/10/fall-beauty-prep-3-moisturizing-hair-treatments/