Introduction
Are you finding more strands of hair in your comb, pillow cover, and shower drain due to excess stress? If you think it's just a coincidence, let's not forget that stress is a significant cause of hair fall. Millions of people are suffering from hair fall due to excess anxiety on an everyday basis. Luckily we can manage this by recognising triggers of stress in our life. This article sheds light on the symptoms, causes, and how to prevent hair loss due to stress.
Today, every person is dealing with a hectic job and worries that eventually leads to increased stress levels. According to an estimation, more than 45% of working individuals struggle to relax during the weekend. Health experts suggest relaxing from a busy schedule is essential as it gives the mind and body scope to recalibrate. Relaxation might seem like a waste of time in this hectic life, but it has multiple benefits for the body. Millions of people unknowingly follow an unhealthy lifestyle, resulting in various illnesses, disabilities, and even death.
Can Stress Cause Hair Loss In How Are They Linked?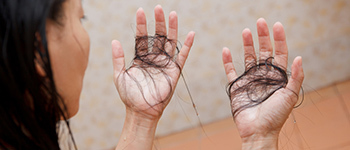 Stress is a major cause of excess hair loss from the scalp. Emotional and physical illness, certain types of medication, surgery, and injury can also be a potential cause of hair fall. Stress has a direct impact on the hair follicles that result in hair fall. People start to notice hair loss nearly 6 to 12 weeks after a stressful period.
Types Of Stress-Related Hair Loss
Alopecia Areata

Bald patches of hair appear on the scalp region due to excess stress. It is a type of autoimmune disorder where the body's immune system attacks hair follicles.

Trichotillomania

Trichotillomania is also termed here to link disorder primarily caused due to extreme stress levels, frustration, boredom, and depression. A person suffering from this condition pulls out hair from the scalp, eyelashes and eyebrows. It leads to the thinning of hair on the scalp.

Telogen Effluvium

A series of hair follicles enter into the resting phase due to the effect of trauma or stress. Usually, 5 to 10% of hair in a healthy person is in the resting phase. Because of Telogen effluvium, the percentage of resting hair increases and results in the loss of more than 100 strands of hair each day.
How To Identify If The Hair Fall Is Due To Stress?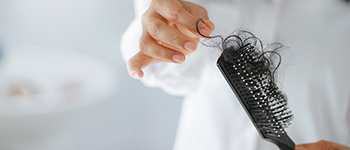 If a person finds more than 100 strands of hair in the comb, shower drain, or pillow cover, it indicates hair loss. The thinning of the scalp is noticeable if the person is suffering from telogen effluvium. In the case of alopecia, bald patches appear on the hair scalp. Patients suffering from trichotillomania always pull their hairs off, leading to a reduction in hair volume over time.
Hair Care Tips And Avoid Stress
Topical Treatments
Rogaine or minoxidil is available as the counter drug in the form of creams or sprays. It helps in lengthening the hair growth phase. Topical corticosteroids of prescription-strength or OTC are also useful for preventing stress-induced hair loss. Castor oil is a highly effective home remedy to reduce hair loss. Although it does not hold any scientific confirmation, it's a popular hair care tip among men and women.
Proper Stress Management
Relaxation TechniquesRelaxation techniques like meditation, yoga, and breathing exercises help in managing and reducing stress levels.
Positive ThinkingPeople must always have a positive outlook on life, helping them deal with stress effectively. Always find people with a positive mindset and approach towards life.
Consult A TherapistA person suffering from stress can consult with the therapist to know about effective ways of reducing and preventing stress.
ExerciseExercise helps in relieving good chemicals in the body that enable managing stress effectively. A healthy body and a calm mind can quickly reverse hair loss due to stress.
Follow Hair Care RoutineA good hair care routine helps improve hair growth. Clean the hair using a gentle shampoo and then use hair creams to have a protective layer over the hair cuticle. Heat protecting sprays comprising hydrating compounds like shea butter or green tea also helps nourish the scalp and promote hair growth.
Healthy DietIf a person is suffering from stress, the chances of skipping meals are high. Such practices deprive the hair and the body of necessary nutrients. Nutritional deficiency is a major cause of hair loss. Following a balanced diet comprising vitamins, zinc, iron, and protein helps reverse hair loss.Stress-related hair loss is temporary. In most cases, the hair starts to grow back after stress levels are under control with appropriate treatment. Stress-related hair loss typically lasts for three months after a stressful period. However, it may take months to grow the hair after a traumatic period.

Stress is the cause of hair fall diseases like telogen effluvium, trichotillomania, and alopecia. Topical medications, how to avoid stress, a good diet, and a healthy hair care routine help restore hair loss due to stress.
Finding The Right Treatment For Hairloss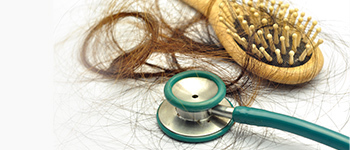 Multiple factors can cause hair loss. It is essential to know the cause of hair fall to be able to find the right treatment. A dermatologist has years of expertise in diagnosing and counseling patients suffering from hair loss. They examine and suggest how to prevent hair loss. Dermatologists first examine the area with hair loss and ask the patient about their health, medication, lifestyle, underlying diseases, etc. Sometimes they recommend some testing to make sure stress is the cause of hair loss.
If the person has stress-related issues, dermatologists discuss how the diseases affect their life and suggest treatments accordingly. Reputed clinics understand the effect of hair loss on the physical and emotional health of a person. Their team of expert dermatologists has complete knowledge of diagnosing and treating all types of hair loss problems. Clinics have access to state-of-the-art medical equipment and provide top-quality therapy and surgery facilities. If you are suffering from excess hair fall, get in touch with your dermatologist today.