Overview:
It's that time of the year when it gets chilly outside and the change in weather can have a woeful impact on your skin and hair if not tended to. Hair care is often challenging, especially in winters, when your hair can dry out, lose its volume, and look lackluster while feeling limp and brittle. Therefore, taking care of your hair in winter is as essential as taking care of your skin. To get your hair winter-ready, you need to follow a proper hair care routine that keeps your hair looking healthy and stylish. If you have been suffering from dry and brittle hair with the onset of winter and are looking for hair care tips on how to maintain the health of your hair, read on!
Are you lazy when it comes to taking care of your hair? Hair fall causing dandruff, dry scalp, and dull hair are signs of unhealthy hair. Watching strands and strands of hair clogging your drain or falling all over the floor while you are brushing them can be quite unsettling.
Moreover, as winter sets in, your hair finds it harder to retain moisture and is further prone to breakage and damage. Adding to that, the frizz and static that comes with your winter wardrobe can wreak havoc on your hair as well. This aggressively cold weather is known to suck the moisture out of everything from your hair to your skin. While applying hydrating face masks can work wonders for the latter category, sometimes you have to adopt an entirely new hair routine to ensure your hair doesn't turn into the texture of hay.
Although, maintaining your hair, even during winters, is relatively easy once you know the do's and don'ts. So if you're looking for ways to control hair fall and explore some natural hair growth tips, you need to follow a particular hair care routine that prevents hair loss in winter.
Winter Hair Care Routine You Should Follow

The thumb rule of protecting your hair from instant frizz during winters is to make sure your hair is 100% dry before you step out of your home. When you go out in the cold with damp hair, this is when your cuticles are open and your hair tends to frizz and go static. Besides, adapting to a good routine can work wonders for your hair.
The best ways to take care of your hair in winter is:-
·Develop a routine
·Provide extra nourishment to your hair
·Use the right products depending on your hair type
Let's look deep into these various ways to keep your precious tresses healthy, shiny, and full of bounce.
Develop A Routine
Every individual has different hair and therefore needs to be treated and taken care of differently. In order to understand the best winter hair care method that suits your hair type, first and foremost, you need to identify your hair type. The way your hair reacts to a certain product can be way different from that of your friend's.
Secondly, you don't need to wash your hair every day, especially in winter. Wash your beautiful tresses only when it is necessary and not out of habit so you can lock in the moisture and prevent hair fall. Depending on your hair type, here's how often you should wash your hair during a week.
Hair Wash Cycle For Winters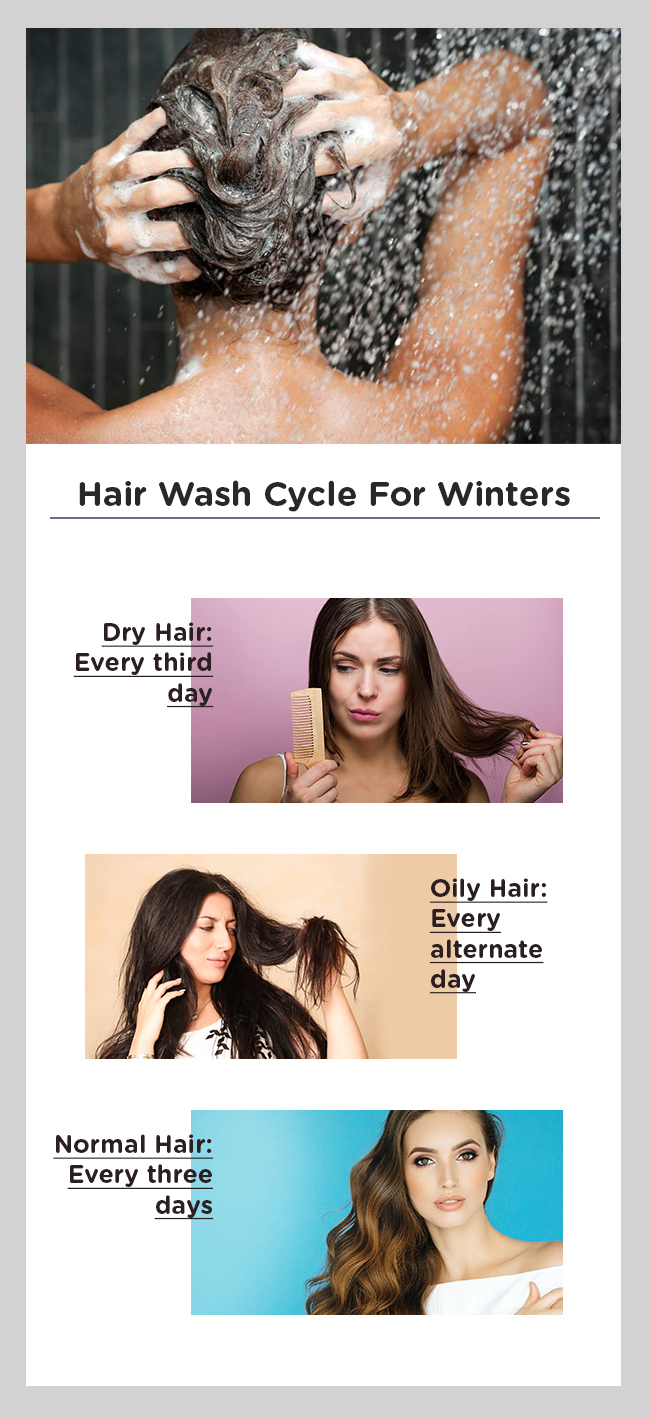 Of course, you know better when it's time for your next hair wash but if you stick to the above routine, your long locks will suffer less than if you were to wash them every day. Remember, there is no perfect formula to keep your tresses shiny and bouncy but there is always a way to restore the natural oils in your hair.
Nourishment For Your Hair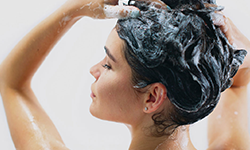 Washing your hair only when needed is just one aspect of hair care in winter but nourishment is another important aspect that needs to be addressed. Here's how you can nurture and protect your precious tresses in winters and keep them shining and flowy.
Moisturize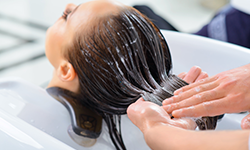 Spray your hair with a light mist of Vitamin E oil before you go to sleep. Comb through your hair using a wide-toothed comb and let the oil seep in the moisture while you sleep.
Deep-condition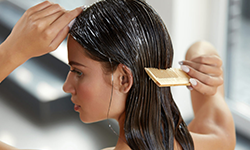 Experts say that hair requires conditioner as a lubricant to restore its natural oils. Using a conditioner is a must to keep your hair healthy and bouncy. In addition to that, how about giving your hair that extra care it needs with a deep-conditioning treatment once a week. If you're pressed for time on weekdays, keep aside some time to pamper yourself on the weekends. As mentioned before, it is highly recommended to avoid using any chemical-based products.
Conditioners having benzophenone, cetrimonium chloride, ceteareth-12 or -20, Diazolidinyl urea, DMDM hydantoin or isopropanol sodium Laureth sulfate, and sodium lauryl sulfate are not healthy and can also irritate the skin and can be toxic to the liver and kidneys.
Therefore, look for products that are organic and consist of natural ingredients.
A homemade mask would also do the trick just as fine and will be healthier and easy on your pocket as well. Here's how you can make one:
·Take 1 egg yolk, 5 tbsp. of coconut oil, and ½ an avocado. Mash and mix it well until the mixture's even
·Apply the mixture to your scalp and let it rest for about 20 mins. Rinse with cold water after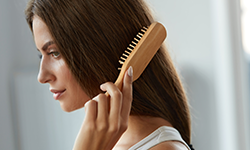 As you already know, the drier the hair the more likely for them to break and get damaged. Avoid pulling your hair too hard while brushing them. To prevent static and frizz, dip the tips of your comb in olive oil for smoother combing.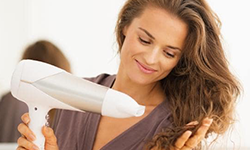 Due to the dry winter air, your hair finds it difficult to hold in the moisture so applying direct heat to dry your hair is a definite NO-NO. Avoid using blow-dryers, hair straighteners, or a curling iron on your hair during winter. Let your hair air-dry naturally or just use a soft towel to soak in the water to quicken the process. If you need to hurry, at least make sure you use one that has a cooler setting.
Use the right products depending on your hair type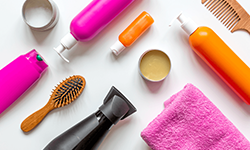 From washing to styling, and every other step in between, hair-care routines are nothing if not complicated. With a seemingly endless amount of clean hair products available in the market, figuring out the ones you should be using can get confusing.
Oprah Winfrey's hairstylist Andre Walker created a system back in the 1990s to market his line of hair care products. The system categorizes natural hair types, and it's often referred to simply as "the hair chart." The chart identifies four hair types and within each of those categories, there are different sub-types – straight, wavy, curly, and kinky hair and a majority of people from the university reference the same.
Here's a quick guide to finding your hair type and choosing the right hair care product based on the same: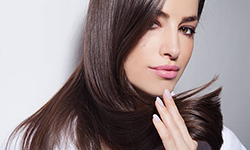 According to the Hair Typing System, straight hair textures vary from fine and fragile to coarse and thin. For people with similar hair types, use shampoos that are moisturizing, conditioners that are TKO or Total Keratin Obsession, and massage your scalp with olive oil.
For ones with a wavy hair type, your hair texture differs from fine and thin to coarse and frizzy. Since waves are looser, moisturizing daily isn't always necessary. Instead, apply a leave-in TKO conditioner once a week.
The naturally curly hair falls into subcategories of hair texture – Loose curls to corkscrew curls. Curls can be tough to style, especially when they intertwine with each other and create knots. Therefore, besides using a good moisturizing shampoo and conditioner, look for hair sprays rich in vitamin E and shea butter. This will not only keep your locks from tangling but also make them look sleek and bouncy.
The fourth type of hair is kinky or coily hair. The texture varies from tight coils to Z-angled coils. The tight curls in oily hair need to be nourished with products that will help elongate and define them instead of shrinking them.
Make these hair care tips a part of your winter hair care routine and you will be able to control hair fall or any causes of hair loss. In spite of taking that extra care, if you still find your hair to be dry and brittle, here's the best way for natural hair growth – Nourkrin® Woman that maintains healthy hair with a glossy sheen.
This winter, say hello to long, luscious, healthy hair!