You're stepping out of the house, and you happen to catch a glimpse of the grey sky – and you realise the universe has decided to spell hair trouble for you. So what do you do?
Well, fret not. With the right hairstyle, you can keep your hair smooth, slicked back and frizz-free. Here are 3 stylish and fuss-free up-dos for a rainy day!
#1: Sleek Bun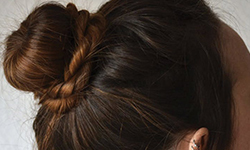 Step 1: Comb your hair back with a soft bristle brush.
Step 2: Tie your hair into a ponytail at the crown of your head.
Step 3: Twist your hair and then start curling it in a circle at the base of your ponytail.
Step 4: Secure your sleek, twisted bun with an elastic.
#2: Top Knot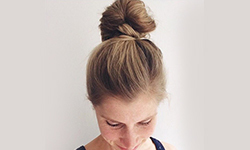 Step 1: Brush your hair upwards with your fingers and gather them at the top.
Step 2: Twist your hair clockwise till it bunches up in a knot.
Step 3: Tie it up with an elastic band; don't worry if it's messy.
#3: Halo Braid
Step 1: Make a middle parting and divide your hair into 2 sections.
Step 2: Start braiding one section of your hair from the top of your ear and secure the end with an elastic.
Step 3: Repeat the same with the other section of hair, so you have 2 braids.
Step 4: Now fold the right braid over the top of your head and fix in place with a bobby pin.
Step 5: Cross the left braid over the top of your other plait and secure in the same way.
There you have it. 3 easy, rain-proof hairstyles for you to stay on top of the weather! For more tips on taming your mane and looking your best during the humid rainy season, visit https://www.skinandhairacademy.in/