Androgenic alopecia, pattern balding, baldness – there are many names for hair loss, enough to give both men and women endless sleepless nights. While home remedies do have a say in the matter, severe hair loss commands professional treatment that only a skilled dermatologist can help you with.
Among the many treatments available today is low-level laser therapy. One of the most successful hair restoration procedures in the market today, laser therapy for hair loss involves delivering low-level lasers to the scalp to stimulate the hair follicles. If you, too, are looking for an absolute solution to balding, read on as we dig deeper into this non-surgical hair regrowth treatment.
Laser Therapy: How Does it Work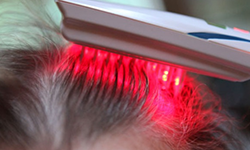 As mentioned above, laser therapy involves delivering low-level lasers to the patient's scalp in order to stimulate the hair follicles. The light from the laser triggers cellular activities that, in turn, enrich the hair follicles with oxygen and other nutrients, thereby, promoting hair regrowth. Detailed studies on the procedure demonstrate that the laser light penetrates deep into the scalp tissues, thus, stimulating blood circulation, cell metabolism and protein synthesis.
Laser therapy is a cost-effective and non-surgical treatment for hair loss that puts all your hair loss worries at bay. Note, however, that the results on different areas on the scalp can vary, as the laser could work well on one area, but not on other areas. Therefore, it's best to get a scalp test done before you go ahead with the procedure.
Laser Therapy: The benefits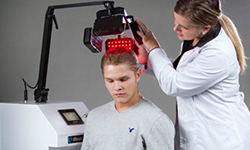 Hair specialists across the world vouch for laser therapy as the procedure has numerous benefits to its name. If you go ahead with the procedure, here are the top advantages you can experience:
–       Increased blood supply to the scalp by up to 60 percent
–       Proper dosage of laser light energy
–       Stimulation of hair follicles that leads to shinier, thicker, fuller hair
–       Improved hair shaft quality, hair strength, and elasticity
–       Relief from previous scalp conditions
Are there risks involved?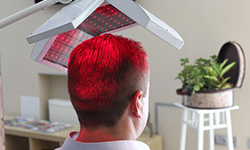 While laser therapy is absolutely safe, patients are advised to always pick a licensed physician who knows the ins and outs of hair loss. Moreover, a reputed clinic ensures that only the best products and equipment are brought into use, so as to avoid any kind of mishap.
In case the equipment is not licensed and certified, there's a slight chance that your hair follicles are unresponsive to the treatment. This may lead to a situation where you're bound to pay a large sum of money only to experience no results.
If you're in the early stages of hair loss (1-7 years), or have been experiencing general thinning throughout the sides and back, there's never a better time to consider laser therapy. The procedure is extremely safe and ensures that you gain all your lost confidence back in a matter of just a few weeks.
References:
1. What is Laser Hair Regrowth Therapy Treatment?– https://www.totalhairlosssolutions.com/laser-pain-free-no-side-effects-infrared-therapies-men-women-leeds-laser-hair-loss-treatment-regrow-hair-naturally-fda-laser-hair-treatment-best-price-for-laser-hair-growth-treatment-in-leeds-dht-bloc/
2. Laser Treatment for Hair Loss Risks, Dangers and Safety- http://www.healthcentre.org.uk/hair-transplants/hair-transplant-laser-risks-dangers-safety.html
3.Am I a Candidate For Laser Hair Therapy?– https://www.hair-vital.com/blog/19-am-i-a-candidate-for-laser-hair-therapy.html