"You've got such lovely curls!", "Oh how I wish I had curly hair just like yours!" Do people compliment your curls every day? Well, little do they know the effort that goes into maintaining those curls daily!
Summers can be brutal for those with curls. But, if you have curly hair, we care! Instead of opting for an expensive treatment or visiting the salon every week, try these everyday tricks to maintain and manage your pretty curls.
Let's take a look at the 5 rules or commandments for curly hair that you must follow.
Do Not Shampoo Your Hair Daily
While it may seem like a good idea to go in for a hot shower after a long day, it's not so good for your hair. Shampooing your hair with hot water daily forces the hair cuticles to open up, leading to . Moreover, it strips your scalp of the natural oils needed to keep it healthy. Instead, opt for a good shampoo and conditioner that is gentle on your hair and use it on alternate days.
Dry Your Hair With A T-Shirt

Drying your hair with a towel can make curly hair extremely frizzy and poufy. Replace your towel with a t-shirt instead.
When your hair is dry enough, use a serum to make your hair less frizzy and dry. Make sure you don't dry your hair completely when you apply any products to your hair after wash.
Use Hot Oils And Deep Condition Your Hair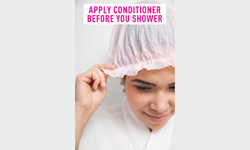 When you choose a conditioner, especially for curly hair, you need to make sure that it contains Keratin which is a rich protein source for your hair. A keratin-based deep conditioner moisturizes, nourishes, detangles, protects colour, prevents split ends, adds shine to your hair and even protects against sun damage. That is quite a long list, isn't it?
Another trick to remember is to apply hot oil on your hair and leave it overnight. It conditions your hair well before you take a shower the next day.
Do Not Brush Wet Hair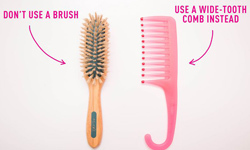 The golden rule for wet, curly hair – do NOT brush! If you have to detangle your hair either use your fingers or a wide-toothed comb, never a brush. It helps prevent breakage and maintains the shape of your curls as well. Also, to make sure that there's less hair fall, comb your hair from the ends to the roots and not the other way round.
Avoid Washing Your Hair During Rains And When Humid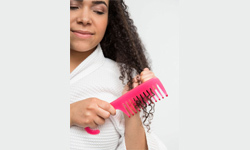 Curly hair tends to become drier and frizzier than straight or wavy hair. And humidity can cause frizz. To avoid it, try not to wash your hair during rains and when it's humid outside. Instead, take a mixture of water and leave-in conditioner and spray it on your hair. It will retain the natural oils and also prevent frizz.
So, now that you have noted down these hacks to maintain your curls, you should start implementing a few and see how it works.