Summers are here, granting relief to those winter blues and allowing you to hit the outdoors. No doubt soaking up the sun might be your favourite activity at this moment, but you can't ignore the fact that the scorching heat of summer can damage your skin.
Proponents believe, and even science states, that excessive exposure to the sun can engender age spots, hyperpigmentation, wrinkles and even skin cancer. Hence, it is crucial to limit sun exposure when outdoors. It's never too late to start protecting your skin too. We have listed great tips to help you take preventive measures and keep your skin healthy during scorching summers. These simple yet effective tips will prevent your skin from cumulative sun damage.
How Does the Sun Damage Your Skin?
We know that the sun's rays do a lot of good to the human body. They provide enough vitamin D, bring positivity to the mind and make us feel energetic. Unfortunately, the sun's rays can also cart along with a host of summer skin problems for you.
Over time, sun exposure damages elastin and eventually leads to premature skin aging. The skin tears and bruises easily, which takes longer to heal. UV rays of the sun are also the #1 cause of skin cancer, as per scientific research. According to Harvard, the sun's heat depletes the natural lubricating oils of the skin. Furthermore, excess exposure to UV rays can cause sunburn, photodamage, or sun damage.
7 Tips to Keep Your Skin Sun-proof
Apart from following the proper skincare routine in summer, follow these tips to prevent damaged skin:
1. Use Sunscreen with High SPF Every Single Day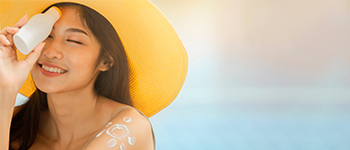 A sunscreen comes with a sun protection factor (SPF) number that showcases its ability to block UV rays. The higher the SPF, the greater the effectiveness of the product. It would be appropriate if you begin to use a broad-spectrum sunscreen with SPF 15 or more during summers. Even during cloudy or slightly cooler weather, using it benefits a great deal. Make sure to put a thick layer on the skin directly exposed to the sun. Listed below are a few points to remember –
Reapply sunscreen after every 2 hours, especially while swimming or sweating.
Check the expiration date of the product before application.
Opt for a sunscreen with physical filters instead of the one with chemicals.
2. Wear Sunglasses Outdoors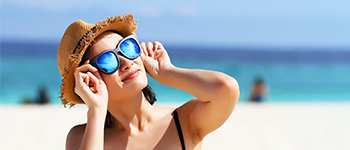 Sunglasses protect your eyes from the harmful rays of the sun and lowers the risk of developing cataracts. They also protect the skin under the eyes and prevent dark circles and wrinkles. Pick sunglasses that offer maximum coverage around the eye area. The sunglasses you pick should protect you from both UVA and UVB rays. The best pair is the one that provides 99-100% protection from UVA/UVB rays.
3. Avoid Midday Sun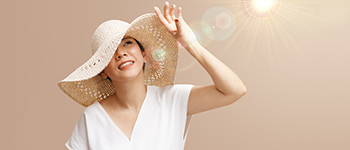 You might be tempted to go out during midday, or some people, especially kids, love to play outdoors at noon. It is advisable not to engage in outdoor activities between 10 a.m. and 4 p.m. This is the duration when the sun is at its peak. If it's important to go, try finding some shade and avoid direct sunlight. Also, it would help to carry an umbrella with you. Make sure to protect your skin by wearing protective clothing and sunscreen.
4. Cover Wisely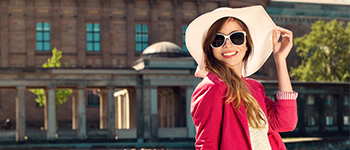 No doubt you have already applied tons of sunscreen, but your skin needs extra protection from the sun's burning rays. So, cover your body, especially the exposed areas of the skin, with appropriate clothing. Wear long pants and full-sleeve shirts. Ensure picking a tight-knitted fabric that comes with an apt SPF rating. Also, opt for light colours for your clothing, such as black and grey. Invest in a few pairs of tightly woven hats with a brim around them. It would help if you avoided hats made of straw and ones with holes.
5. Use a Moisturiser Along with Sunscreen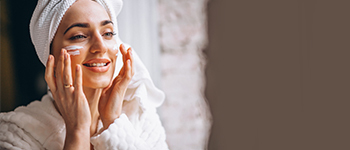 If your daily summer skincare routine requires you to use a moisturiser on your face, apply it before the sunscreen application. Your topical medications will go before a moisturiser. Once they are dry, moisturise your skin well. Follow up with a broad-spectrum sunscreen.
6. Don't Forget to Hydrate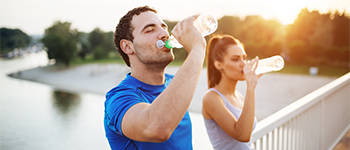 Although there is no way for water to prevent sunburn and damaged skin, intake of sufficient fluids will speed up the healing process. Drinking liquids frequently, especially outdoors, will compensate for the fluids lost during sweating. If you do not drink adequate water, it can lead to dehydration and worsen your skin problems. So, drink one glass of water every hour, especially under direct sunlight.
7. Consult a Dermatologist, if Needed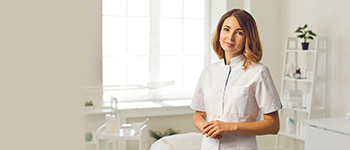 Sun damage can be improved in some cases if you seek help from an expert. An experienced dermatologist will examine your condition and devise a solution for damaged skin accordingly. These dermatology-grade solutions and specific lifestyle changes will help you reverse or prevent further sun damage
Conclusion
Sun exposure can cause most skin changes. During summers, the scorching sun rays can severely damage your skin. Fortunately, you can prevent photodamage by following some preventive measures. We advise you to wear broad-spectrum sunscreen, protective clothing and a wide-brim hat. If you have severe skin damage due to constant sun exposure, it's best to visit a dermatologist without further delay. We recommend visiting Skin and Hair Academy to find leading dermatologists in your area for skin treatment and expert skincare guidelines during summer.