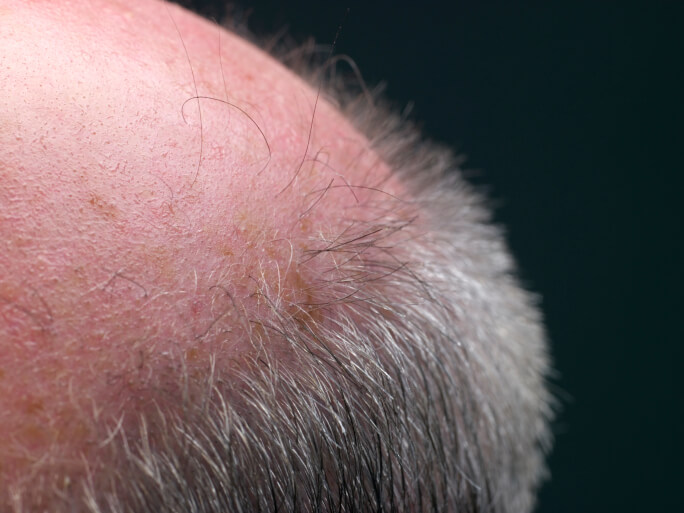 "Like Father, Like Son" may not be true in all situations, but it is certainly true for hair loss as you are more likely to suffer hair fall if you have a family history of hair loss or Alopecia. Recent studies have found that men inherit hair loss directly from their fathers and the problem is medically known as Androgenetic Alopecia or male-pattern baldness.
However, it is important to understand that hair loss is not a disease, it is rather a condition that results from a combination of factors including hormone levels, genetics, and aging. Reported mainly in men, people suffering from Androgenetic alopecia (AGA) start to show signs of hair loss before 40 years of age. Studies suggest that 50 percent of all men start to experience hair fall by the age of 50 years while 58 percent of Indian males have been found to be experiencing Androgenetic Alopecia between 30-50 years, the severity of which increases with age.
Male-pattern baldness is believed to be associated with oversensitive hair follicles. Follicles present under the skin are the growth sites of hair. It takes around 2-6 years for a strand of hair to grow. It is followed by a resting phase that runs for many months, which is in turn followed by the strand falling off. After this, another cycle of hair growth begins and the process is repeated. An increase in androgen levels shortens the cycle, which causes the strands to grow shorter and thinner. In addition, it also causes delays in the replacement of hair follicles that have fallen.
Androgenetic alopecia has also been reported in women and this is referred to as female pattern hair loss. Caused mainly due to androgens, it can be inherited from either or both sides of the family. Hair thinning in susceptible women due to AGA usually begins between 12 and 40 years of age. However, it's comparatively less severe in women than in men. While the mechanism of hair loss in women is similar to that in men, the pattern may differ. In women, frontal and parietal regions of the scalp show the greatest thinning while the occipital region has the greatest hair density. Characterized by miniaturized, fine, and short hair of different thicknesses and lengths, AGA is first visible in the frontal region and eventually leads to a visible scalp in that area.
Signs of Androgenetic Alopecia in Men
A receding hairline and/or hair loss on the top and front of the head can be the early signs of AGA or male-pattern baldness. It can be characterized by progressive, patterned hair loss from the scalp, identified by a decrease in terminal hairs on the scalp. AGA typically affects the front, mid, temporal, and top areas of the scalp.
Available Treatment Options for AGA
Most of the men with mild Androgenic Alopecia consider it as a cosmetic problem and generally don't opt for any treatment. They simply follow the watch-and-wait policy. But those who are looking for medical management can go for the following therapies or management options:
Medical Treatment
Minoxidil
Most dermatologists prescribe the topical application of Minoxidil as the first line of treatment for AGA. Minoxidil is known to stimulate hair regrowth by increasing the anagen (growth) phase of hair. The topical application of 5% solution in men is known to exhibit better results as compared to the 2% solution.
Finasteride
Finasteride is an approved drug for hair regrowth for men aged 18 years and more with androgenic alopecia. It works by inhibiting the action of testosterone, which is known as one of the contributing factors to AGA. Various studies have reported a significant increase in the target area hair counts in men after 12 months of topical application of Finasteride. Though reversible side effects including erectile dysfunction were reported during the use, the direct association between finasteride use and sexual side effects is still unknown.
Combination treatment
Depending on the diagnosis, your dermatologist may also prescribe you a combination of topical minoxidil and oral finasteride. The severity of hair loss-related distress may be a guiding factor for the doctor to decide on the early course of treatment. He may begin with minoxidil or finasteride as monotherapy or prescribe both simultaneously to get the benefits of early treatment. Usually, doctors start with monotherapy for at least 6 to 12 months and introduce a second treatment only if the patient doesn't respond to the initial treatment.
Surgical Method
Hair transplant
Only in a few cases, medical therapy can help patients get robust regrowth of hair. Those who want to restore higher hair density can opt for hair transplantation. Males over 25 years of age having high-density donor hair and hair loss on the frontal and mid-frontal scalp are the ideal candidates for hair transplantation. Out of the hair transplant techniques being used these days, follicular unit extraction is known to be the best as it gives the most natural-looking hair.
Some possible (rarely reported) side-effects that are known to be associated with hair transplant include:
Infection
Poor growth of grafts
Scarring around the grafts
Persistent scalp pain
Telogen effluvium
These are, of course, the commonly available treatment options for male-pattern baldness, but it goes almost without saying that if you are looking for the treatment of androgenetic alopecia or any kind of hair loss, you must meet your nearest dermatologist as treatment type and dosage may vary depending on the degree of hair loss and your symptoms. Also, Minoxidil and Finasteride are prescription drugs in India therefore it is better to use them after your dermatologist's recommendation.