Rainy day blues got you down? There are many reasons why one might stay locked up in their home during monsoons, and having to take extra care of your skin and hair is probably one of them. Frizzy hair and hair fall are problems that probably give you grief, every year.
Hair fall accelerates during the monsoon because of the high humidity levels in the air. This makes the scalp moist, and this moisture permeates to the root as well. When the scalp and follicles are moist, hair is more prone to breakage. Add to this the fact that rain water is mostly acidic nowadays – which means that you may be in for serious hair damage.
While there might be many products that you could get off the shelf to treat hair loss, home remedies work best during this season. So let's take a look at these home hair care tips that will work well for you so you can step out of your home carefree.
1. Honey And Milk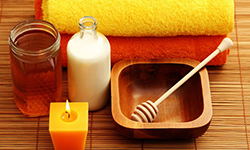 Honey is one of the few ingredients found in every home that is a treat for your overall health, skin and hair. While honey is beneficial in many ways, its antioxidant properties are beneficial to hair because it provides nutrition to the hair and scalp, reduces hair fall and increases hair growth.
Milk, on the other hand, is beneficial for you wholly. It strengthens your bones, provides calcium to your entire body, and keeps your skin supple and your hair stronger. It nourishes your scalp and keeps your tresses smooth, soft and shiny, especially for those with dry hair.
How To Apply?
Take a bowl of milk (as per the length of your hair) and add a few drops of honey to it.
Take a portion of it on your palm and apply it gently on your hair and scalp. Make sure you apply a good amount of the mixture to the ends of your tresses.
You can even massage your scalp for a good 3-5 minutes.
Leave this mask on for about 25-30 minutes.
Rinse it off with a mild shampoo.
This hair mask is the ideal hair care solution since it nourishes your hair and scalp while cleansing off the dirt and pollution that build up on your oily scalp, especially during monsoons.
2. Lemon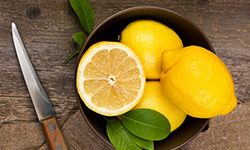 While lemon is mostly used for cooking to add that zing to your meal, it has many other benefits as well! Lemon can work wonders on your skin and hair and is even great for weight loss. Lemon contains astringents and antioxidants that tighten the hair follicles while cleansing the scalp. If you suffer from hair fall, especially during monsoons, lemon therapy can be your ticket to great looking hair.
How To Apply?
Take a cup of warm water and squeeze some lemon juice into it. Mix it well.
Pour the mixture over your hair and scalp after your bath. Make sure your eyes are closed.
Leave the mixture on for about 20-25 minutes.
Rinse it off with cool water.
This therapy is one of the best hair loss treatments because it helps tighten your hair follicles, cleanses your scalp and controls hair fall during monsoons.
3. Olive Oil + Yogurt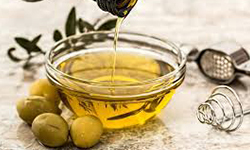 Wondering why we're telling you to use olive oil when you already have an oily scalp during monsoons? Well, here's why! Olive oil contains antioxidants, which help get rid of harmful free radicals from your hair and scalp. It also happens to be an emollient, with has a high percentage of fatty acids, which makes it soothing to your scalp and penetrates it better than other oils. This is how olive oil helps retain the moisture in your scalp and adds shine to your hair.
One of the oldest hair care home remedies, yogurt has been used by generations of women to strengthen and nourish hair. Why? Well, yogurt is a great source of essential nutrients and minerals like protein, potassium and calcium that aids hair growth and prevents hair fall. It also acts as a mask and protects your hair from the harsh effects of acidic rain water.
How To Apply?
Take a small bowl of olive oil and add one or two spoonfuls of yogurt to it.
Massage the mixture gently on your hair and scalp.
Leave it on for about 15-20 minutes.
Rinse it off with a mild shampoo.
This hair mask is the best way to protect your hair from damage during monsoons.
This monsoon, protect and nourish your hair and say goodbye to hair fall. For more tips on how to keep your tresses thick and shiny, visit the Skin and Hair Academy