Ghee is one of the most important and valuable fat-rich dairy products
Ghee, or clarified butter, an important and valuable fat rich dairy product, is one of the most essential ingredients in Indian kitchens. But beyond its valuable role in cooking, ghee also has varied therapeutic uses. If your mother and grandmother insist you have a spoonful of ghee everyday on your rotis or with rice & dal, listen to them because ghee is one of the healthiest fats that you can consume.
Here's more about ghee, its benefits and the important role that ghee can play in hair and skin care.
Types of Ghee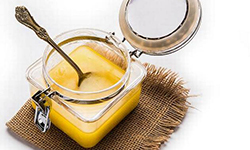 In India, ghee is generally prepared from cow's milk and is made in the traditional way by simmering butter, which is derived by churning cream, which in turn is made by churning curd. After simmering butter, the impurities are skimmed from the surface. Only the clear liquid fat is poured in the container while the residue at the bottom is discarded.
Another type of ghee that is also used is vegetable ghee which is made from hardened vegetable oil and does not contain any milk products. Due to lower costs this ghee is widely used in restaurants but unlike ghee made from milk, vegetable ghee or vanaspati might contain trans-fat.
Benefits of Ghee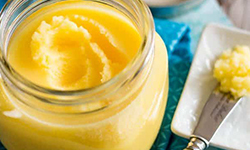 From being used in scared fire rituals to being a staple ingredient of desi cooking, ghee has numerous benefits. According to Ayurveda, the ancient Indian healing method, ghee is the golden potion that has tremendous remedial properties, from warming the body from within during winters, unblocking clogged noses, providing an energy boost, aiding digestion and preventing constipation, improving heart health, ensuring soft, smooth skin and many more.
Ghee has multiple benefits including
Packed with omega 3 fatty acids and fat soluble Vitamins like A, E, D
Rich in anti-oxidants
Excellent source of butyric acid that aids intestinal health
Remarkable use in skin care routines
Helps to control weight
Maintains good cholesterol levels
Balances hormones
Does not produce free radicals that can damage cell function
It is lactose-free and, compared to butter, much lower in cholesterol
Contains a unique form of vitamin D that improves mental alertness and memory
Ghee and skin care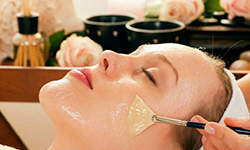 Ghee has played an important role in beautification rituals since ages. Ayurveda has long recommended the use of ghee in skin care and beauty cures. So how does including ghee help your skin care routine?
Acts as a natural moisturizer
Ghee is rich in omega 3 fatty acids that help hydrate skin cells and also acts as a natural moisturizer preventing dryness and leaves you with soft, supple, glowing skin.
An excellent anti-aging agent –
One of the major benefits of massaging ghee on your skin will help you defy aging and keep you looking youthful.
Gives a glow to your skin, naturally –
Ghee is a wonderful skin nourishing agent that will brighten your skin and give it a natural glow. Regular application of a combination of ghee, milk and gram flour paste will diminish dull and listless skin replacing it with a radiant, bright skin.
Heals dry, chapped and dark lips –
Few drops of ghee applied to dry, chapped or cracked lips overnight will heal them by sealing moisture leaving them soft and pink the next morning.
Also ghee is known to be useful if you have dark lips or lip pigmentation. Regular application of ghee on the lips will lighten them in a few weeks.
Clears dark circles –
As with face and lips, in case you have dark circles under your eyes, gently messaging ghee over the eyelids and under the eyes will greatly reduce them over time, leaving you with a fresh, relaxed look.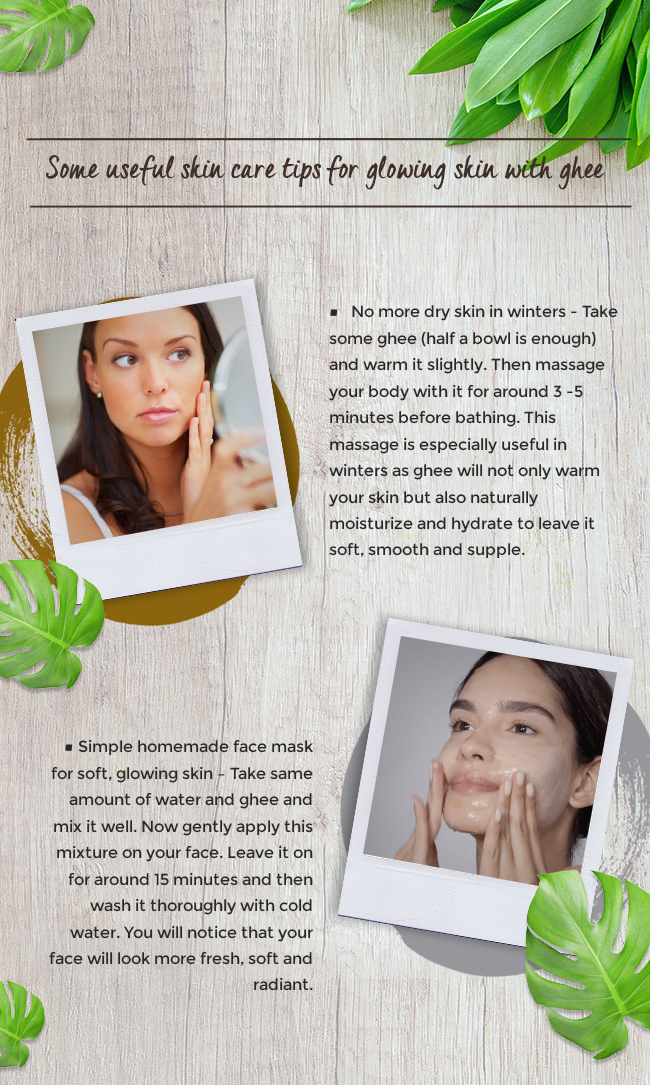 Video of the day