Ageing is a natural process and can't be stopped. But, it can be delayed, and dermal fillers are the ideal way to go about it! With increasing pollution in the air and mounting stress level, the signs of ageing have started surfacing on people's skin earlier than expected. Wrinkles, fine lines, sagging skin, and age spots are some of the prominent signs of ageing, which is exactly what are dermal fillers for!
Note that, the category of dermal fillers is extensive as it includes many types. Not every type of dermal filler is designed for all purposes. For instance, a wrinkle-based soft tissue filler may not be an appropriate choice for dark spots. The best results can be achieved only when the right type of filler is used in the most efficient manner.
That said, based on the basic ingredients, dermal fillers can be categorized into four types:
Synthetic fillers
Hyaluronic acid based fillers
Collagen based fillers
Autologous fillers
Let us understand in detail what each of these comprise of, and how they're different from each other.
1. Synthetic fillers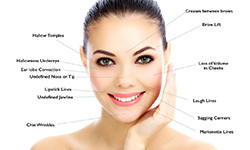 Synthetic fillers involve the use of a synthetic material for deeper wrinkles, enhancing cheekbones, jawline, and replace facial volume lost due to age. Used in the form of an injectable, synthetic fillers create a thin layer of collagen around the addressed area over a course of a month. Synthetic fillers are stable, and can even be remove if required.
2. Hyaluronic acid based fillers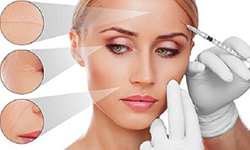 One of the most popular injectable fillers, hyaluronic acid based fillers are ideal for reducing wrinkles and fine lines on face and neck. Hyaluronic acid acts as an inflated cushion to support facial tissues that may have lost volume and elasticity over a period of time. What's more, it also hydrates the skin by bringing water to the surface, and keeps it looking fresh and supple.
3. Collagen based fillers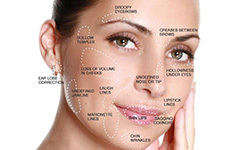 As the name suggests, collagen based fillers pump up the collagen content in your skin. These are the best fillers for face that lend a plumper and smoother appearance, and help reduce wrinkles, sagginess and age scars. By replenishing the skin's natural collagen, these fillers enhance and contour your skin's support structure, and smooth out the overall texture.
4. Autologous fillers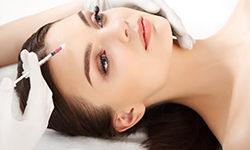 While all other types of dermal fillers bring into use products that are not made within the body, autologous fillers vary considerably in their basic concept. They use fat as well as blood directly from the body of the person undergoing the treatment. In a typical autologous filler procedure, fat is surgically removed from other parts of the body, and grafted (by using an injection) into the area that needs dermal filling. Blood based fillers follow the same concept, and lend effective wrinkle reducing and filling effects.
Dermal fillers are always advised to be performed under the skilled expertise of a dermatologist. Make sure you consult one near your area to understand the type of dermal filler your skin is suited for.