Hair thinning can be rather perturbing, for both men and women! Watching your hairline recede or noticing a balding spot can affect your sense of self-image and self-confidence. Unfortunately, male or female pattern baldness, also known as androgenetic alopecia, is quite common.
Before we delve deeper, let's first understand what the term androgentic alopecia means.
WHAT IS ANDROGENETIC ALOPECIA?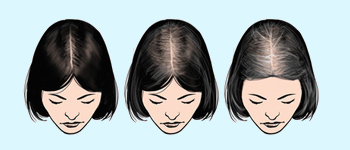 Androgenetic (pattern) alopecia is a genetic disorder identified by the progressive transition of terminal hair (0.06 mm diameter) into indeterminate hair and finally into vellus hair (less than 0.03 mm diameter). This common disease affects both men and women.
WHAT ARE THE CAUSES OF ANDROGENETIC ALOPECIA?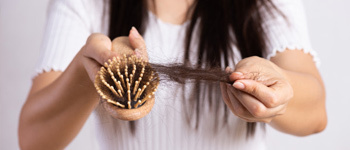 Androgenetic alopecia is triggered by the increased conversion of testosterone into dihydrotestosterone due to the 5-Alpha reductase enzyme. Dihydrotestosterone causes a disturbance in the blood circulation of the scalp, which results in a decreased supply of nutrients to the hair. This leads to gradual thinning and decreases the rate of hair growth, bringing about premature hair shedding.
WHAT ARE THE SYMPTOMS OF ANDROGENETIC ALOPECIA?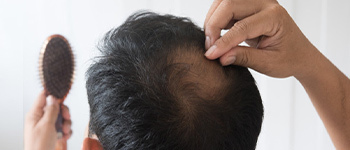 Here are the commonly noticed signs:
Progressive onset during the second to third decade of a person's life
Excessive hair shedding
Conversion of thick, pigmented terminal hair to thinner, shorter, indeterminate hair and finally to fine, flyaway, short, non-pigmented vellus hair
Baldness in the temporoparietal and vertex area of the scalp
Men and women experience androgenetic alopecia differently:

MALE PATTERN
BALDNESS
Men suffer hair loss in as early as their teens or 20s
Men notice a gradually receding hairline and balding in the frontal scalp and crown

FEMALE PATTERN
BALDNESS
Women experience visible hair thinning in their 40s or later
Women observe thinning over the entire scalp, with maximum hair loss at the crown while the frontal hairline remains unchanged
WHAT ARE THE TREATMENTS FOR ANDROGENETIC ALOPECIA?
Since androgenetic alopecia is caused by genetic factors related to paternal as well as maternal genes, it cannot be cured. However, progressive balding can be slowed down with an early diagnosis and treatment.
If left untreated, the balding can advance as 1 grade per decade, according to the 7 grades of the Hamilton Scale.
There are only two FDA-approved drugs used in the treatment of androgenetic alopecia:
MINOXIDIL: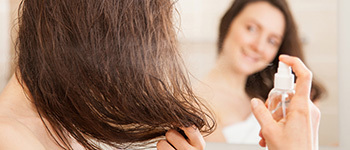 Minoxidil is a vasodilator that dilates blood vessels and increases the flow of blood to the scalp.
The increased blood supply helps regulate the hair growth cycle.
It extends the duration of the growing phase of hair (anagen), which improves the length and thickness of hair.
It's normal to experience hair loss in the initial 2-3 months of the treatment, as the old hair sheds before the growth of new hair.
To see visible effects, Minoxidil has to be applied regularly for at least 6 months.
FINASTERIDE & DUTASTERIDE: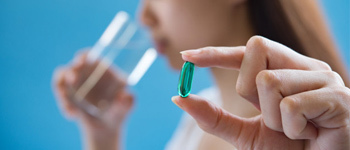 Finasteride and Dutasteride are dihydrotestosterone inhibitors.
However, these drugs are prescribed only in some cases.
Apart from these two drugs, there are certain therapies like mesotherpay and platelet-rich plasma therapy that are also used for treating androgenetic alopecia.
For persistent and irreversible hair loss, a hair transplant may be the only permanent solution. To know more about this surgical procedure and its results and risks, read, "HAIR TRANSPLANT IN MEN & WOMEN".
You can take a look at our articles for more dermatologist-recommended hair loss solutions for women and men. Androgenetic alopecia is a progressive genetic disorder, and it's best to address it at its roots and act upon it at the earliest. To know more about the right treatment to combat your problem, book an appointment with a reputed dermatologist or trichologist by signing up on www.skinandhairacademy.in.
https://www.skinandhairacademy.in/find-local-dermatologist