Overview:
College-going years are some of the most fun and stressful years for everyone. These are the years when girls go through many changes both emotionally and physically. Hard pressed for time, college girls often forget to take care of their skin which can lead to skin problems. So here are some easy to follow beauty care tips for the skin every college girl will love!
College is the time when every girl experiments with hair, wardrobe and skin. Trends change every week and to keep up with the latest fad, and you often end up putting excessive strain on skin and hair. Unfortunately, college-going years are also some of the most stressful years in a person's life. Higher studies, peer pressure, job searches and more end put stressing you out more than you can handle. Let's not forget that these are the years girls through intense hormonal changes. The early twenties are also the first few years of your life when you set a foundation for healthy skin. So without further ado, here are a few essential skin care hacks every college should know. They are pocket-friendly, time-saving and most importantly, skin-friendly!
No time for a facial? Give yourself a facial massage at home!
Puffy eyes? Dull skin? No time to go the parlour? No problem. Just give yourself a facial massage at home! When massaging your eyes, always move your fingers from the inner corner to the outer corners. Use a soothing under-eye cream for under-eye massages and get rid of tired and puffy eyes from studying late nights.2.
For a facial massage, dab on your favourite moisturiser and use your fingers to always move in upward circles. Use upward movements on your neck too.
Now, massages aren't as good as professional skin therapy. But for college girls on the go, a massage can you give you a little relief from stress and can help while you finally fix that parlour appointment!
Sleep on your back!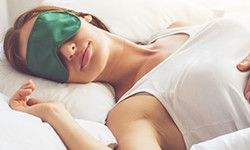 Yes, your mother was right to tell you to sleep on your back! Now, this hack doesn't cost you a dime, and it is a good habit that will keep your entire body healthy.
The early twenties are the time when fine lines start developing on your face, they set in in your thirties and become visible wrinkles during your forties. Save yourself from unwanted wrinkles early by developing the habit of sleeping on your back. When you lie on your side or your stomach, you end up squishing your face against your pillow. When this becomes a routine, your skin gives into the stress and forms fine lines. After UV exposure, pillows are the most common cause for wrinkles. It also doesn't help that your skin is giving into gravity making it prone to sagging. Here's a quick tip – lying on your back also helps you keep your breasts firmer and your internal organs functioning well.
Invest in a good sunscreen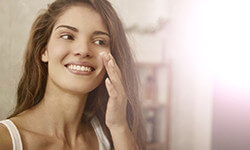 Whether you are catching up with friends over coffee or for a long day of lectures and projects, do not forget your sunscreen. Make a broad-spectrum sunscreen your staple. A good sunscreen protects you from the harmful UV rays of the sun, moisturises and is light on your skin. Girls with oily skin can invest in a gel-based sunscreen, and those with dry skin can opt for creamier formulas. It has also been proved that using sunscreens is the best possible way to prevent wrinkles from an early age.
Find out more about choosing the right sunscreen for your skin and how to use it best here –
Know Your Sunscreen: Its Agents & Their Efficiency
Don't forget to remove your makeup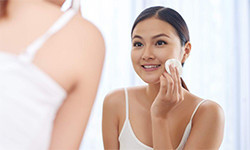 Always and always remove your makeup before going to bed. No matter how tired you are, don't skip out on this important habit at the end of the day. Make removing makeup a part of your nighttime skincare routine. It is a well-known fact that makeup build-up can cause numerous skin related problems. Use a good cleanser that penetrates deep into your skin to remove dirt, oil and makeup particles. Keeping your skin clean and free of makeup is essential to let your skin breathe and rejuvenate during your sleep.
Here's a quick read to help you find the right cleanser for your skin type –
Choose the right cleanser based on your type of acne and treat your skin right
Keep calm and drink water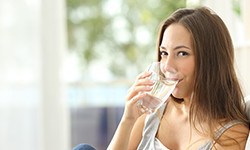 There's a good reason why you keep hearing this skin care tip – it doesn't cost you much, it is healthy, and it is true! Drinking 2 to 3 litres of water every day helps to keep toxins at bay, hydrates and nourishes skin, aids weight-loss and helps your skin glow. Always carry a bottle with you and sip on some water to keep yourself hydrated and nourished. Begin good habits early in your life to keep your skin healthy for a long time to come.
Here are some more anti-ageing tips for every girl in her twenties :
Hit a few poses!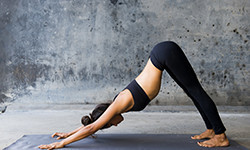 Keep your face glowing with exercises that are simple and effective. Exercising is one of the most popular beauty care tips because it helps you stay healthy inside and out. Your skin is just one of the many organs that benefit from exercising. You could also try yogasanas that help keep blood circulation in your face up and running. Simple poses like the forward bend can improve blood flow to your face and keep you glowing.
Eat healthily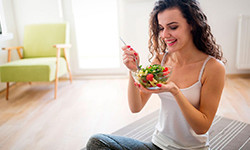 This golden rule is one that you have heard many times but find difficult to follow. Food is one of the most important things college going girls tend to ignore. When going out with friends, it is easy to indulge in a quick snack than eat healthy. While there are plenty of food options available, just take the time out to explore your options and eat healthy. While you love your pizza, you can find the same sanctification and taste in a bowl of salad. Eating healthy is a conscious choice you need to make for your skin and body.
Here's a video on the best fruits you can munch on for healthy skin!
College-going years are not just the founding years for your future, but it is the time to develop great skin too! There are no hard rules when it comes to skincare during the early twenties. But a few basics everyone can follow are moisturising, cleansing and eating healthy. Find what suits your skin and schedule best.