Having a glowing complexion is on the top of the wish list of most women. But in order to achieve that radiant & healthy skin so many women use a lot of chemical-based products, which can be unsafe for long term use. Facials have been a popular skincare treatment for long, now HydraFacial treatments are taking them a step forward with some amazing results! Read on to find out more about this wonderful skin-nurturing.
What is HydraFacial treatment?
Is HydraFacial treatment beneficial for the skin?
How does HydraFacial work?
HydraFacial treatment is done using an instrument called HydraPeel which removes the dead cells from the skin and infuses it with serums and hydrating agents (anti-oxidant & anti-ageing).
Is there a difference between HydraFacial and Microdermabrasion?
 HydraFacial is non-invasive while microdermabrasion is minimally invasive
Microdermabrasion uses a device called DermaSweep which has an abrasive tip for removing dead cells and pollutants from the skin whereas HydraFacial uses HydraPeel which has a vacuum tip and is much more gentler than the DermaSweep.
HydraFacial is suitable for all skin types whereas for Microdermabrasion you will need to consult a dermatologist if your skin type is suitable for the procedure.
How to find out if you are the right candidate for HydraFacial?
Acne
Fine lines and wrinkles on your face
Dull and lifeless skin
Loose skin and wish a younger-looking, healthy skin
Are there any side effects of HydraFacial?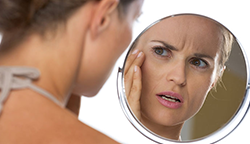 The main reason HydraFacial is so popular is because it does not have any serious side effects and gives instant results. However, in some cases, there may be a bit of redness and tightness of skin for some time after the procedure (but that goes away after a while). Make sure to check that you are not allergic to any ingredients in the serums that will be used.
Aftercare for HydraFacial: a few skincare tips!
   Don't go out in the sun immediately after treatment
  Use SPF 40 sunscreen if you do have to go out
  Don't wax your face to the area treated right after getting HydraFacial
  Don't exfoliate or use skincare products that have acids in them for two weeks at least post-treatment
  Don't use steroid OTC creams for the next 48 hours
  Don't use products with retinol or Retin –A for the next few days
Hope this information on HydraFacial Treatment has been useful. Always consult your dermatologist for any skin related issues.