Covid-19 has changed our lifestyles in many ways, just like it changed our skin problems. From the usual troubles of pimples and acne, we have upgraded to a new set of skin complications called 'Maskne' by the world. These new types of breakouts that are induced by face coverings have forced experts around the world to change their skincare tips.
Dr. Mayuri Chandana is a practising Dermatologist from Ahmedabad, India. According to her, having a special skincare routine during the pandemic is necessary for the good health of your skin. As advised by WHO and government experts all around the world, maintaining hygiene is crucial to curb the spread of Covid-19. There is no alternative to wearing masks, but you do have the opportunity to shield your skin from the problems caused by their regular use.
Effects of face mask on the skin
Some common problems caused by wearing face masks are:
Excessive sweating

Skin infection or irritation (due to the poor quality of mask)

Skin irritation like red rash due to dryness

Acne

Increased dryness

Breakouts

Sore skin behind ears

Worsening of existing skin conditions

People suffering from skin conditions like Rosacea (causes visible blood vessels and redness on the face) will face severe problems after wearing face masks. This is because their skin capillaries will be forced to dilate due to the heat generated between their skin and the mask. Such problems will worsen their condition. To avoid this, it is best to prevent warm exposures like spicy food, alcohol, and hot liquids while using a mask that feels good. Visiting your dermatologist is highly recommended for getting prescriptions customised for your concern.
In addition to this, the frequent washing of hands has caused many people to face increased problems of skin dryness. This is because the moisture from your palm is stripped off every time you apply a sanitiser or hand wash. Check out the remedies mentioned in the next section to save your skin from the harsh effects of chemicals and the external environment.
Remedies or Precautionary Measures
For healing the distressed area or preventing skin problems, Dr. Chandana mentions some skincare tips along with a healthy night routine for skin in this section.
Before wearing the mask:For preventing any kind of skin irritation or breakout, you must keep your skin clean and sufficiently moisturised at all times. Before wearing your mask,

Cleanse your face with a face wash that removes makeup, bacteria, oil, and dirt. Ensure that the cleanser is pH balanced and non-comedogenic.
Apply a fragrance-free, gentle, and non-comedogenic moisturiser to protect your skin from dryness.

Applying moisturizers that have ceramides or dimethicone can gently repair your skin while preventing irritation due to face masks. If your skin tears or develops breaks, use zinc oxide in the form of cream, spray, ointment, cream, powder, or lotion. While going out, you must avoid wearing makeup as it will soil your mask and cause skin irritation as you step out in the sun.

Caution: Consult your dermatologist before using any of these products as they might damage your skin if you have any other conditions.

After washing hands:Handwashing is undoubtedly a blessing for preventing the spread of Covid-19. You might be using an alcohol-based sanitizer, soap, or liquid sanitizer for washing your hands. But using it frequently can extensively dry your skin. To prevent this, wait for your hands to dry after washing them. Apply an ointment or a hand cream on the front and back sides of your palm. Cover your palm with gloves to keep them soft and protected.Many people believe that applying a moisturiser can attract germs and bacteria to their skin. However, it is quite the opposite. Your skin is protected from germs when you apply moisturiser to it.
Night routine for skin dryness:The friction caused by wearing a mask throughout the day leaves no time for skincare. At night before sleeping,

Gently wash your face with a pH balanced, fragrance-free, and non-comedogenic face wash that does not strip the natural oil off your face.
Pat your skin dry with a clean towel.
Apply an unscented thick moisturizer or petroleum jelly like Vaseline.
Allow it to get absorbed in your skin and wash your face in the morning.

No matter how impossible it feels to stick to the routine, you must ensure that you do it for the sake of your skin's health. Avoid wearing makeup as much as possible and give your skin the required time to heal on weekends by applying face packs or face masks. In the long run, you must keep your body hydrated by drinking water frequently. A hydrated body keeps your skin moisturized.
Skincare routine for Doctors and Others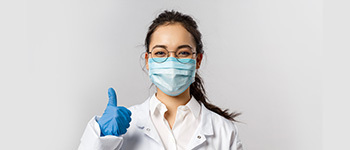 The most important tip for preventing skin conditions is to wear a good quality mask. Using sharp and abrasive low-quality masks can cause cuts, irritation, and sores on your face. As per Dr. Chandana, wearing a surgical mask or N95 is only recommended for healthcare professionals. Every other individual must wear a cloth face covering as recommended by the government. Tightly woven cotton must be used as a fabric instead of synthetic.
Dr. Chandana emphasizes the importance of following a strict skincare routine for doctors and others. To minimize the harsh impact of the face mask, use an ointment or salve for preventing your sensitive areas from chafing or friction. As mentioned in the earlier section of the article, apply petroleum jelly or any barrier cream for healing your broken skin overnight.
Conclusion
Overall, cleaning your masks after every use will significantly help in improving the quality of your skin. The tips mentioned in this article are strictly for people with healthy skin. In case of any pre-existing conditions, you must book your appointment with Dr. Chandana to get skin care tips customized for you. The consultation will also help if you are facing skin irritation after implementing the skincare routine mentioned in this article.