Summer's soaring temperatures and dry heat can affect your kid's sensitive skin. Although it will be an indoor summer for most of us due to the global lockdown caused by the Covid19 pandemic, it's still important to protect your child's skin at home. Sun or heat-related issues like sunburns, prickly heat or heat rashes, and dehydrated, dry skin are common in summertime. It's also important to note that children who are taught to take care of their skin at an early age are more likely to continue these hygiene and self-care habits as an adult.
Here's how you can beat the heat, inculcate a good self-care routine and protect your little ones with these 7 summer skincare tips for children!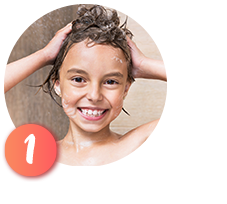 Summer equals heat, sweating, body odor, and grime. Let your kids have a quick bath twice a day with cold water, which will also cool down their body temperature. Use a mild cleanser and avoid hot water as it can irritate and dry out the skin.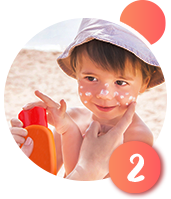 During this quarantine period, your kids may have complained of dry, rough, cracked, and peeling skin. This is mainly due to frequent hand washing coupled with the dry summer heat. Ensure your children apply a light summer body lotion after a bath and rub a hydrating moisturizer all over their hands after washing. This will replenish and restore moisture levels, keeping the skin healthy and soft.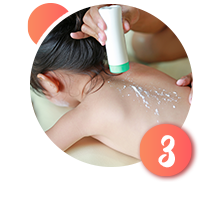 Heat and sweat can cause the skin's pores to get blocked, leading to bacterial growth and a prickly heat rash. The best way to prevent or tackle summer skin issues is to bathe with an anti-bacterial
wash, keep the skin dry with an anti-bacterial powder, and reduce inflammation with soothing aloe vera gel.

Your kids should be drinking at least 8-10 glasses of water per day. Other than that, provide fresh fruit juices, coconut water, buttermilk, and good ol' nimbu paani to your kids to help replace the fluids lost through constant sweating.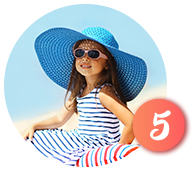 Your kid's summer wardrobe should consist of light-colored clothes in breathable, natural fibers. Cotton fabrics absorb sweat and will keep your little one's body cool and rash-free. Don't forget protective gear like caps or hats if your child has to step out in the sun for any reason.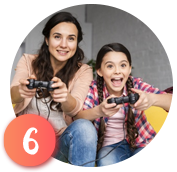 Severe sunburns in kids younger than 18 years can increase the risk of skin cancer later in life. Make sure your kids avoid direct sunlight during the peak hours from 12 pm to 4 pm. Allow them to play outside or in the complex only during the cool evenings.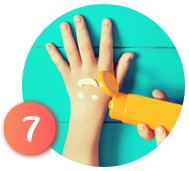 Kids older than 6 months can wear sunscreen. Use a broad-spectrum sunscreen with an SPF of 30 and above, which will protect you from both UVA and UVB rays. Look for sunscreens that contain titanium and zinc oxide only. These ingredients are the best choice for young children or children with sensitive skin.