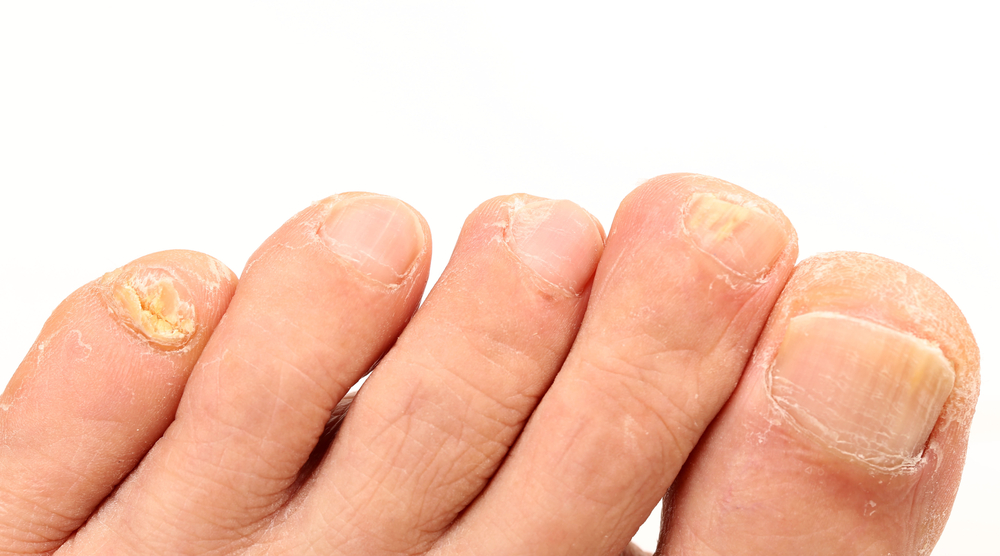 Also known as onychomycosis, or tinea unguium, toenail fungus is an infection often characterized by inflammation, yellowing, crumbling, thickening and swelling of the toenails. If left untreated, it can cause pain and inflammation, spread to other parts of your body and lead to splitting, cracking and even complete loss of the affected nail. The symptoms and treatment procedures for toenail fungus would depend on the type of infection you have developed .
Types of toenail fungus
There are four types of toenail fungus that you may develop:
Distal subungual onychomycosis that affects the skin under the end and in the nail
White superficial onychomycosis that affects the nail's top layer
Candida onychomycosis that affects the nail folds
Proximal subungual onychomycosis that affects the nail's base
Causes of toenail fungus
Toenail fungus is commonly caused due to dermatophytes, nondermatophytic molds, and Candida. Trichophyton rubrum, the dermatophyte, most commonly causes toenail fungus, but it can also be caused due to other dermatophytes, such as Epidermophyton floccosum, T. violaceum, T. interdigitale, T. soudanense A, T. tonsurans and Microsporum gypseum [1].
Risk factors for toenail fungus
Aging is related to diminished circulation of blood, longer fungi exposure and slower growth of nails, which increases a person's chances of developing toenail fungus. Men are more susceptible to develop this condition than women, and it has something to do with hereditary pattern too. Other risk factors for the condition include heavy perspiration, moist or humid environment in the feet, psoriasis, unventilated shoes and socks, minor nail or skin injury, nail damage, or walking barefoot in damp places like gyms, shower rooms and swimming pools. People with weak immune system, diabetes and circulation problems also have more chances to develop the condition.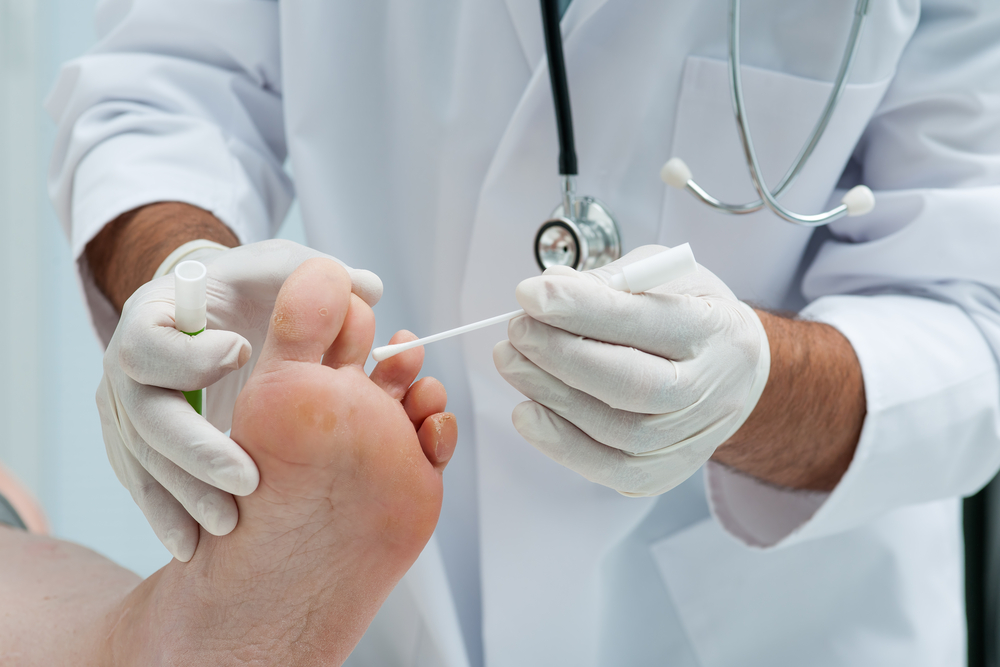 Treatment options [2]
Toenail fungus can be treated with a number of options, including the following:
Oral anti-fungal drugs, such as terbinafine and itraconazole
Medicated nail polish, which can be applied on the affected nail
Nail cream, which is an antifungal cream that you have to rub on your infected nail
Nail removal surgery, in which the affected nail is removed, so that a new nail can grow in its place
Laser and light therapy
Prevention of toenail fungus [3]
"Prevention is important because once the fungal infection gets into the nail, it becomes much more difficult to treat," says Jane E. Andersen, DPM, a podiatrist at Chapel Hill Foot. So, follow these steps:
Always keep your feet dry and clean
Wear shower shoes in damp public areas
Wear clean socks and shoes
Keep your nails short
Wash your hands after touching an infected nail, as it may further spread the infection
Always wear breathable shoes. 'Your best bets: Shoes made of a breathable material like leather or canvas', according to the American College of Foot & Ankle Orthopedics & Medicine.
Now that you understand that damp and wet feet are the breeding grounds for toenail fungus, try to avoid the causes, and take preventive measures to keep away from this extremely uncomfortable condition.