An underrated fact- Men also need to know about the skincare basics and start practising it as much as women do. It is time to start taking care of your skin if you are yet to start. A good skincare routine for men is more than just washing the face while bathing. It is a regimen prepared to keep your skin healthy-looking and free of any impurities.
Let us get you on board, but before that, you must know why it is so important to have a good skin care regimen.
Don't you give it a thought that you can give some extra minutes to your skin for its best shape possible? Why? Because skincare matters and has is just as important to men as it is for women.
Men have thicker skin than women. It has its highs and lows. The good thing is that it is better at resisting wrinkles, but a downside is that your skin tends to be acne-prone due to excess oil glands.
Constant shaving does provide an advantage of exfoliation but also increases skin sensitivity. It will irritate your skin that you might want to get rid of eventually.
In this blog, we'll try and answer commonly asked questions regarding men's face care routine, which could help you deal with tanning, breakouts, pigmentation, and shaving irritations.
Q1. What are the skincare tips for men to prevent frequent breakouts and make the skin brighter?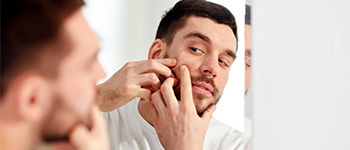 Exfoliation is important for brighter and smoother skin. It is difficult to cover the face or avoid pollution regularly. Exfoliating helps your skin get rid of those dead cells and clogged pores. It results in a smoother, cleaner, and brighter skin even after a tiring day. The rays from the sun and pollution can make your skin look dull and weak. It will clog your pores eventually and result in frequent breakouts. To prevent this, the removal of dead skin cells is necessary.
Do you know that shaving also serves the purpose of exfoliation? But the downside is that it increases roughness and itchiness. Read further for some great options to prevent this.
Q2. How to avoid rough-looking skin after shaving?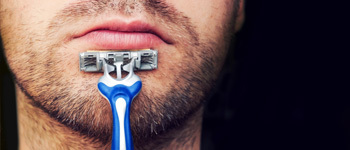 It is essential to have a good skincare routine for men after shaving. Shaving off the beard may lead to skin irritation. Here are some skincare tips for men that can be ensured after shaving –
Cleansing

Provide your skin with the best you can. Using a liquid cleanser is the best option. Apply a cleanser suitable for your skin type twice a day. Make sure that you avoid over-cleansing your face as it can result in more irritated skin and damage your skin surface. Cleansing can give you a less oily healthier-looking skin.

Exfoliation

Perform this to prevent your skin from breakouts. It makes the skin look healthier and younger.

Moisturise and hydrate

The best skincare for men is to use a facial moisturiser to keep the skin hydrated. The key is to moisturise immediately after showering or shaving. It is best to use a light moisturiser if you are prone to acne or have oily skin. Make sure that it is allergy tested.
Now that you are a step ahead in preventing your skin from looking rough, why don't we look at sunscreen's importance?
Q3. Do you need to use sunscreen daily?
Yes! You do. You cannot ignore sunscreen as it is an essential step in men's face care routine. It is necessary to burst the myth that sunscreen causes acne. Nevertheless, if you find it too much to do, then there is some easy option for it. You can use a moisturiser that contains an SPF of over 30. Have a look at its benefits:
It prevents your skin from harmful rays and any skin damage.
It will also prevent early ageing of your skin.
It will delay wrinkles, fine lines, and age spots.
Apply sunscreen every day without any second thoughts. Re-apply it every 2-3 hours. We hope this sunscreen-related information makes you a step closer to it. It is time to answer some shaving tool-related questions.
Q4. How do razors affect skincare for men?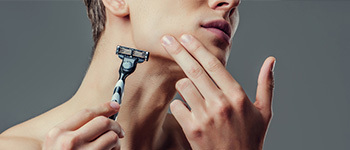 Cheap or low-quality razors come with a risk of cuts, razor burns, abrasions, and irritation after shaving. It can also lead to improper growth of hair later. It is a more reliable option to use the best quality tools on your skin. It will protect your sensitive skin and prevent any scraping.
After the basics of skincare, cleanser, moisturiser, and sunscreen, make an effective skincare regimen. If you are ready to go the extra mile, you might want to add a lip care routine to your list.
Q5. What is the skincare routine for men to keep their lips youthful?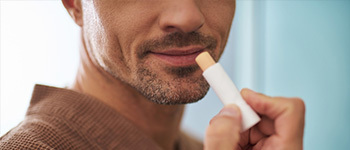 Your lips also require exfoliation from time to time. Using brown sugar on your lips every day can help your lips look natural, full of youth, and plumped. Brown sugar peels the dead skin cells off your lips and acts as a natural scrub. It soothes the lips and increases the moisture content in them. It also helps to prevent constant chapping of lips. If you find this a bit of a hassle, using a lip balm to moisturise the lips is always an easy option.
Our skin is exposed to pollutants and sun almost every day. Harmful rays can destroy your cells and lead you towards ageing. To avoid skin conditions, you can anytime start a simple skincare regimen for yourself.
We can conclude the skincare tips for men under the three methods. They are cleansing, repairing, and moisturising to guard it. Usage of serums beneficial for any skin type is harmless irrespective of gender. Men may not use makeup but have full rights to look equally attractive with healthier-looking skin. A clean skin portrays a sign of healthy skin. It is time for the men to start taking care of their skin too. Know more about skincare and hair care tips at Skin & Hair Academy.