Does the thought of spending 20 minutes every day applying skin care products seem tiresome? Don't worry – a skin care routine can be as simple or complicated as you like. What's more important is that it's the right one for your skin type.
Caring for your skin: The universal routine
While different skin types require different products, all types of skin need a common skin-care regimen – cleansing, toning, moisturising, exfoliating and a facemask.
Cleansing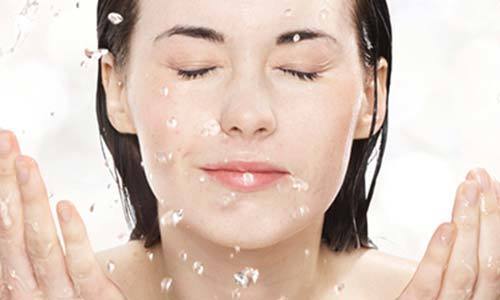 – Cleansers remove trapped dirt, oil and grime from your skin.
– First, wash your hands with soap and warm water so you don't transfer any bacteria to your skin.
– Gently pat your skin with warm water or you could also steam your face to open up your pores.
– Apply the cleanser on your skin and rub in circular motions. Leave it on for a minute or two to dissolve all the dirt and makeup.
– Wash it off with warm water.
Toning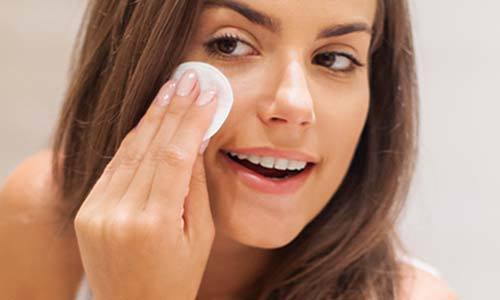 – A toner is used to restore your skin's natural pH balance. They can come with antioxidants, soothing agents, hydrating compounds, spot-fighting ingredients, etc.
– A state-of-the-art toner can enhance your skin's surface, giving it what it needs to look fresher, smoother and hydrated. It can also serve to remove any last traces of makeup your cleanser might not have gotten to.
– Pat your face dry with a towel after you cleanse and wait for a few minutes.
– Apply a small amount of the toner on a cotton pad and wipe it all over your face except around the eyes.
– Give the toner a few minutes to dry off. Do not rinse it off.
Moisturising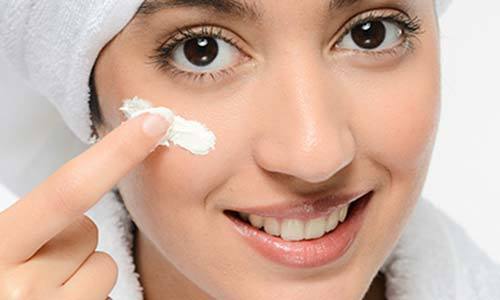 – Moisturising is a must for healthy skin no matter what your skin type. Moisturisers combine the essential nutrients for skin and leave the skin feeling soft and supple. It is an especially important step for those with dry skin.
– A number of moisturisers are available designed specifically for the different skin types. But, certain ingredients like collagen and antioxidants are good for all.
Exfoliating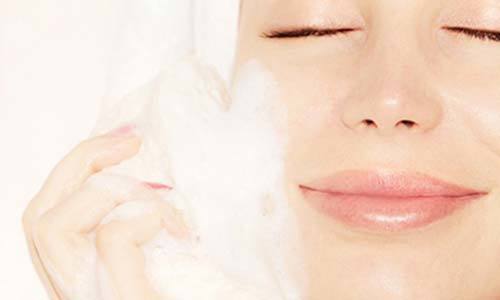 – Exfoliators are gentle scrubs that deep clean while encouraging new skin cell growth. Replace your cleanser with an exfoliating face wash at least two to three times a week to remove dead skin and to deal with blackheads.
– Before using an exfoliator, remove your makeup first and follow it up immediately with a suitable moisturiser.
Facemasks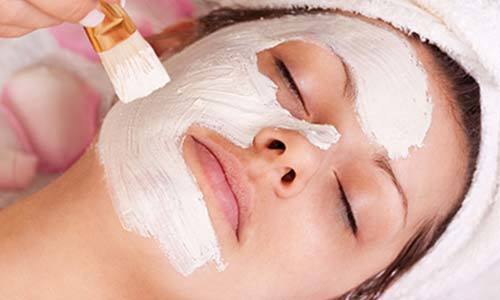 – Facemasks help your skin retain the glow it loses over the week. You can apply face masks once in a week or two.
– Before applying a face mask, cleanse your skin gently and open up your pores with warm water. Choose one that best suits your skin type.
Skin care routine for oily skin
Oily skin is characterised by the typical dull or shiny complexion, large pores, blemishes and pimples – the result of more than usual number of active sebaceous glands under the upper skin layer. Taking care of oily skin is easy with the right products and a meticulous skin-care regimen.
1. Cleansing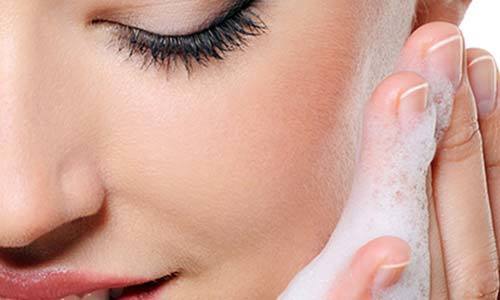 – Cleansing is recommended at least twice a day for oily skin. Periodically clearing out pores and removing the excess oil can get you great results.
– Choose a cleanser with salicylic acid or benzoyl peroxide. These compounds soothe acne prone skin and can reduce blemishes in the long run.
2. Toning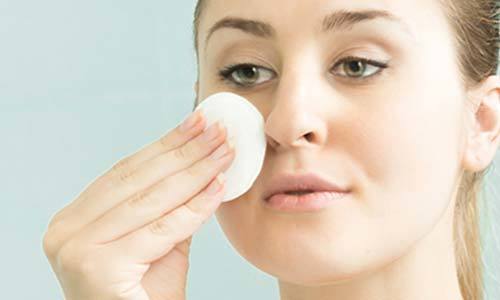 – Toners are a must for oily skin. If you have oily skin, you also tend to have large open pores. Toners tighten your pores and control the oil on your skin. Like cleanser, choose toners with salicylic acid for best results.
3. Moisturising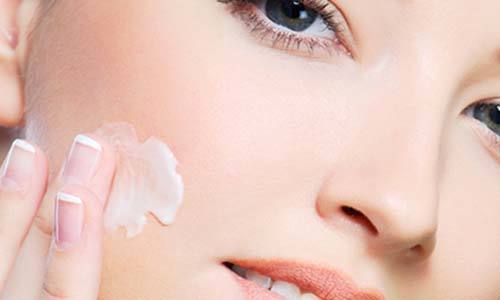 – If you have oily skin, use a gel or water based moisturiser that doesn't add to the existing oiliness of your skin. A water-based moisturiser with silicone works best for your skin.
– Moisturisers with salicylic acid, alpha-hydroxyl acid or benzoyl peroxide nourish the skin and reduce the occurrence of blemishes.
4. Exfoliating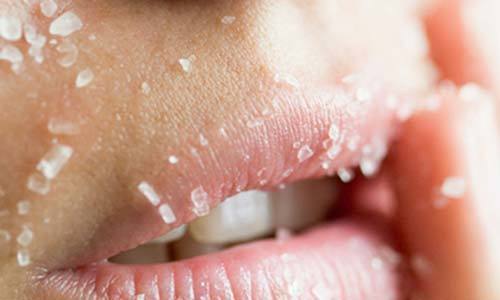 – Exfoliate oily skin with exfoliating face washes that come with exfoliating beads and salicylic acid. Make sure to give a few extra seconds for the exfoliator to work on the creases around your nose (blackheads hide-out!) and the pores around your T-zone.
– While it may be tempting to exfoliate often, too much of it could aggravate your oil glands making your skin oilier.
5. Facemask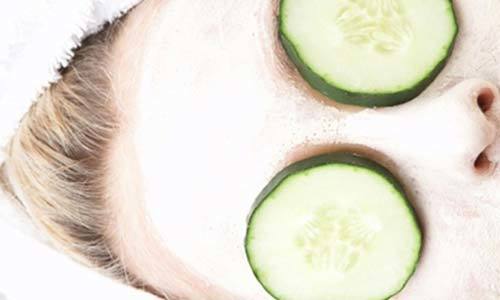 Pick products with salicylic acid and sulfur – both of which are proven to fight bacteria and absorb excess oil and sebum trapped in your pores.
Skin care routine for dry skin
If your skin feels tight with a dull complexion, almost invisible pores, then you have dry skin. Dry skin is caused due to lack of hydration, prolonged usage of harsh chemicals, vitamin deficiencies or ageing. Let's take a quick look at the recommended dry skin care regime:
1. Cleansing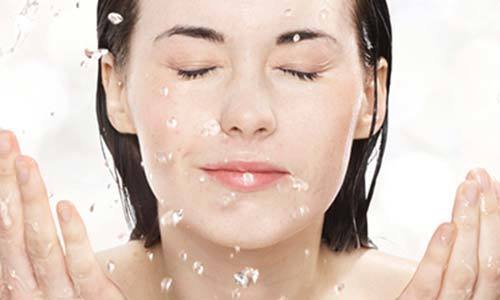 – Cleanse dry skin with cleansers that have ingredients like Glycolic Acid, Peptides, Glycolipids or Dimethicone. Glycolic acid is gentle on the skin and doesn't dry out the skin.
2. Toning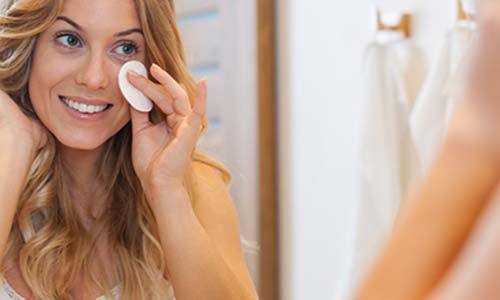 – Toners nourish and keep the skin hydrated. For dry skin, pick toners with Glycolic Acid and Peptides. Do not use toners with alcohol or fragrances as they can irritate dry skin.
3. Moisturising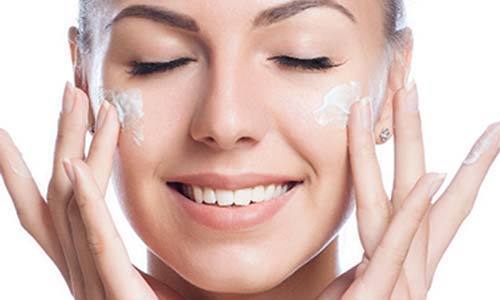 – Those with dry skin are susceptible to fine lines and wrinkles with time, so moisturisers are a must for dry skin. The best moisturisers for dry skin are oil based and are creamy. They come with hyaluronic acid, glycerine and dimethicone that keep the skin hydrated and lock the moisture in.
– Moisturisers with essential oils like tea tree oil and olive oil work best on dry skin.
4. Exfoliating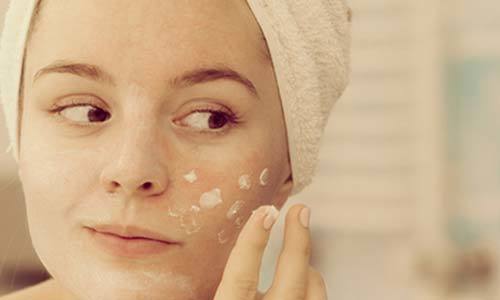 – It is important not to dry out your already dry skin further with harsh exfoliators. A gentle exfoliator with glycerine removes dead skin cells gently, allowing the following moisturizer to seep in.
5. Facemask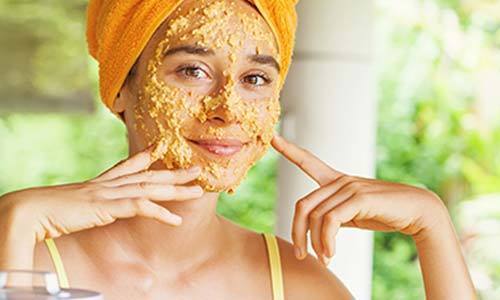 – The ideal facemask for dry skin has glycolic acid, dimethicone and/or lactic acid. Pick a facemask that also moisturises your skin while gently brightening and repairing it.
Skin care routine for combination skin
Combination skin is a mix of just about every skin type. If you tend to be more oily around your nose, chin, forehead area but dry around your cheeks, you have combination skin.
1. Cleansing
Combination skin requires a combination of cleansers. Use cleansers for the dry skin around your cheek area and oily skin products around your T-zone for best results.
2. Toning
If you have combination skin, pick toners that come with a healthy dose of skin-repairing ingredients like antioxidants and cell-communicating ingredients.

A good toner for combination skin combines the qualities of oily and dry skin toners – it does not dry your skin and soothes your oily zones.
3. Moisturising
Combination skin requires special care. Use a gel-based moisturiser on your T-zone (nose and forehead) and soothe the dry areas (cheeks) with a heavier formula.
4. Exfoliation
A neutral exfoliating face wash with gentle exfoliating properties works best for combination skin type. Just give your exfoliator a few minutes extra around your T-zone and be gentle on the cheek area for best results.
5. Facemasks
Add that glow to your combination skin with fatty acids that cleanse, add a natural glow and hydrate the dry areas on your face.