Humidity during monsoon is not exactly your skin's BFF. The sweat and oil deposits on your face only make your skin look dull throughout the season, and also lead to untimely breakouts. The situation becomes all the more difficult to deal with if you have an oily skin type. So, naturally, a few skin care tweaks are, indeed, necessary to keep your skin at its prime, isn't it?
Enter face masks. One of the best ways you can maintain your skin this rainy season, face masks actively help undo any damage that the season bears on your skin. And, the best part? These face masks can be made easily with the help of ingredients already present in your kitchen! Simply pick your favourite – according to your skin's needs – and apply it once or twice a week to make way for a vibrant, healthy monsoon.
Tip 1: Oatmeal and egg white face mask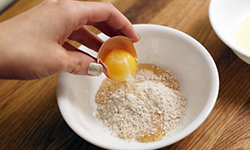 Easily the best face pack for oily skin, the oatmeal and egg white face mask exfoliates your skin by removing all the dirt, sweat and grime accumulated on it through the day. Moreover, it'll also help shrink down large pores and nourish it without leaving your skin greasy.
Method:
– Mix 3 tsp of oatmeal with egg white.
– Add a tsp of honey to the concoction.
– Apply all over the face and neck area.
– Wash it off after half an hour.
Tip 2: Pomegranate and oatmeal mask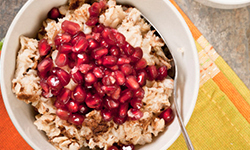 When it comes to beauty tips for rainy season, oatmeal really is a winner! Nourish your dry skin with an oatmeal and pomegranate mask, all the while removing dead skin cells that make the skin look dull. The Vitamin C in pomegranate seeds provides moisture to the skin, whereas the oatmeal helps exfoliate your skin.
Method:
Mix 2 tbsp. of pomegranate seeds with 1 cup uncooked oatmeal.
– Blend the mixture in a blender/food processor to create a smooth paste.
– Add 2 tbsp honey for added moisture.
– Apply the mix on the face and neck area.
– Wash it off after fifteen minutes.
Tip 3: Custard apple and sugar mask
Wish to gain back your skin's lost sheen and radiance? Allow custard apple to do the trick! This miraculous mask will nourish your skin from deep within and hydrate it too. For added effect, add a few drops of chamomile to the mixture to protect your skin from free radical damage, and help reduce unwarranted breakouts.
Method:
– Blend 1 custard apple in a blender.
– Add 1 tbsp sugar and ½ cup milk to the paste.
– Add five drops of chamomile to the mixture and blend again.
– Apply on your face and neck area.
– Rinse off after 20 minutes.
There you have it – three unique masks for three different purposes, all of which nourish your skin in the rainy season, and make it look shiny and radiant. Don't forget to drink 7-8 glasses of water daily, and combine these topical skin care practices with a well-balanced diet.
For more skin care tips for monsoon, sign up on www.skinandhairacademy.in today!