There is a widespread misconception that skincare routines and beauty products are the exclusive domain of only women… wrong! Men need to have a regular skin care regimen as much as women. After all, the face is exposed to the same elements (sun, cold, pollution, etc.) whether you are a man or a woman. Many guys think that choosing and then maintaining their skincare schedule can be confusing, time-consuming, and even expensive!
But trust us, men's face care routine is as essential to protect from acne, wrinkles and even sun damage. Actually building a skincare habit is not as hard as men think, and the difference that it will result in your face, in just a few weeks, will be worth it! Also, think of all those wonderful compliments that will come your way from women when you present a radiant & well-groomed look!
Here are some simple but effective skin care tips for men. Read on …
Basic men's skincare routine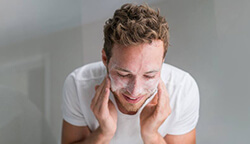 Guys, washing your face with any soap and hoping for the best does not mean facial care for men! If you get a too clean & dry feeling on your face after washing with soap, it means that the essential oils in your face have been stripped away. Use a specific gentle facial cleanser that contains moisturising ingredients which will restore the oils in your face. Using this cleanser twice a day should do the trick.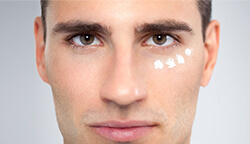 Many men think that moisturisers make their face seem greasy. But there are alternatives such as lightweight moisturising formulas (in gel or lotion formats instead of creams) that will keep the skin well hydrated without making it look oily.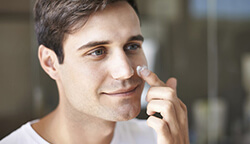 Those dark circles under the eyes are a certain put off not to mention unhealthy. Using a good eye cream can get rid of the puffy under eye bags, wrinkles and fine lines and give your face a fresher look. Ideally use an eye cream in the morning and night after cleansing.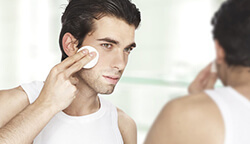 Apply sunscreen everyday… not just in summers but all year through. Prolonged exposure to UV rays damage your skin so a good SPF with broad spectrum that has skin-hydrating ingredients works best as anti-ageing protection.
Intermediate men's skincare routine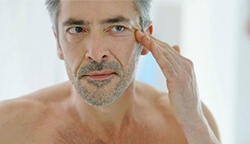 Get rid of those dead cells on your face regularly as they reduce the effect of the moisturisers, make skin dull and clog your skin pores causing other problems such as acne. Of course, men exfoliate every time they shave. Although if you are exfoliating deliberately avoid using a scrub (it can be harsh) and instead use a gentle exfoliator alpha hydroxy acid for more gentle results.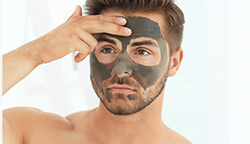 Serums are more effective than the regular moisturisers and pass on active ingredients/nutrients more quickly and effectively. There are serums for all skin types, choose ones that contain hydrating and skin-building ingredients. Use twice a day, after cleansing and before moisturising.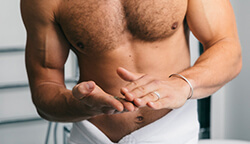 Masks give specific skin care such as they help deep cleans pores, and remove built-up dirt, oil and pollutants. Clay/mud masks are quite effective for beginners.
Advance men's skincare routine
Retinol

Toner

Night creams

Night time skin care routine, before going to bed, is important as the skin rejuvenates during sleep. Night creams contain hydrating agents such as peptides which helps the skin to revitalize.
Self-care tips
Apart from these detailed men's face care procedures, there are some basics that all guys can follow
Don't use cheap razors that can harm the skin
Don't forget to use a good and effective after shave lotion
Don't go outdoors without sunscreen
Don't skip on your face cleansing routine
Don't forget, your skin needs the right moisturisers as well
Now that you have all these skin care tips, make sure you incorporate them into your daily routine. You will surely feel like a new man!