Achieving healthy, glowing skin these days seems to be an uphill battle. With burgeoning stress related to personal life and workspace, environmental stressors like pollution, and erratic lifestyles, it's no wonder why your skin doesn't play ball most of the time.
Fortunately, there are ways to make skin healthy and glowing from the inside out. Following a holistic approach that includes the right skincare routine, a well-balanced diet, and effective dermatology-grade solutions can help big time.
So, if you are wondering how to get healthy and glowing skin, the tips given in this guide by Dr. Abin Abraham are your skin's savior.
Cleanse Your Skin Everyday (At Least Twice!)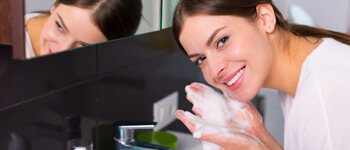 Cleansing should be a crucial part of your everyday skincare routine. Start with a gentle face wash during the day and use the same product after double-cleansing at night. Don't rely on harsh soaps, abrasive scrub brushes or washcloths, or chemical-laden cleansers.
If you wear makeup, double-cleansing is essential to get its remnants out entirely. For that, you can use something like cleansing milk or simply aloe vera gel. Follow up with your regular face wash to remove every ounce of dirt. If you are a guy with acne-prone skin, this skincare routine for men is sure to help you.
Exfoliation Can Help Big Time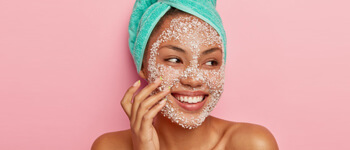 Exfoliation or sloughing off the dead skin cells via a chemical or physical exfoliator can help you get healthy skin. The American Academy of Dermatology states that exfoliation not only leaves you with radiant skin but also elevates the efficacy of topical skincare products. If you exfoliate regularly, you will have no jammed pores and eventually fewer acne flare-ups.
So, get a gentle scrub like a coffee scrub or DIY oatmeal scrub to remove dead skin.
Dermatology-grade AHA (alpha hydroxyl acids) scrubs and peels are also effective. Just refrain from using abrasive physical exfoliators like sponges or face brushes, as they can do more harm than good.
Moisturize Your Skin Well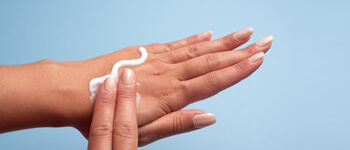 Keeping skin well moisturized will keep it soft, supple, and free from skin woes like itchiness, redness, wrinkles, and fine lines. To prevent your skin from getting dry and dehydrated, you should first pick a moisturiser according to your skin type.
Follow these handy tips for choosing the right moisturiser that best suits your skin's cravings:
For Dry/Dehydrated Skin: Pick a heavy creamy formula that can provide your skin with the right hydration.
For Normal Skin: Any lightweight moisturiser, gel, or lotion will work well.
For Oily/Acne-Prone Skin: Choose a water-based moisturiser or something with aloe gel.
For Combination Skin: Use cream for drier areas and light lotion or gel for oily regions.
For Sensitive Skin: A fragrance-free, non-comedogenic formula is a way to go.
For Ageing Skin: Creams or lotions with AHA acids, retinol, and other vitamins to take care of deep wrinkles and lines.
No matter what your skin type, always opt for hypoallergenic, non-comedogenic, and chemical-free products. A good practice is to consult a dermatologist who can recommend the moisturiser that suits your skin.
Never Forget SPF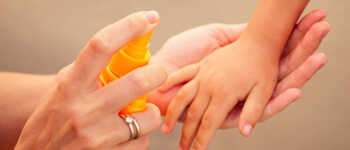 Sunscreen guards your skin cells against harmful UV rays, thereby reducing the risk of developing skin cancers. It can also minimize the signs of premature aging and hyperpigmentation.
So, get a good sunscreen with SPF 30 or more and wear it every day, even indoors. You can pick a suncream, suntan lotion, sunscreen gel, or even spray. Also, ensure your lip balm and other skincare products contain SPF.
Count on a Retinol-Based Cream With Vitamin C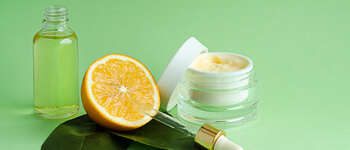 Retinol and vitamin C are two skincare actives that are essential for healthy and youthful skin. These nifty ingredients target various skin conditions and help the skin reach a 'state' where it can take care of itself. They protect your skin from UV-induced damage and correct signs of skin ageing – especially when used together along with vitamin E.
While vitamin C and retinol boost collagen and reduce those wrinkles & age spots, vitamin E keeps skin hydrated and treats acne scarring. So, invest in a retinol-based serum or cream infused with vitamins C and E. You can also opt for a serum fortified with hyaluronic acid for additional anti-ageing benefits.
Wellness Begins From Inside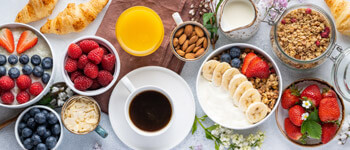 No matter how many skin care products you incorporate into your daily routine, you need to eat well to see significant results. So, always stick to a nutritious diet that includes plenty of seasonal fruits, vegetables, and whole grains.
For healthy skin, you need to take your everyday dose of vitamins A, C, E, D, and K, along with minerals like zinc, copper, potassium, and selenium. Include proteins and fiber in your everyday diet. Also, resort to skin superfoods like berries, lemon, green tea, kiwi, seeds and nuts, and avocado.
Other Skincare Tips for Healthy, Glowing Skin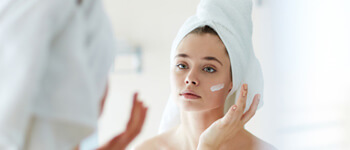 Follow these additional healthy glowing skin tips to keep your skin happy at all times:
Stick to a healthy lifestyle – eat well, exercise, and get enough sleep each night.
Limit alcohol intake. Don't smoke as it speeds up the skin's ageing process.
Avoid drinking too much coffee or tea. Drink fresh juices, smoothies, and coconut water instead.
Whip up a DIY face mask with natural ingredients and use it once every week.
Avoid hot water showers.
Take heart in face oils like argan oil, jojoba oil, rosemary, and the like.
Don't rub your facial skin or touch it too frequently.
What to Do If You Get Any Skin Infections?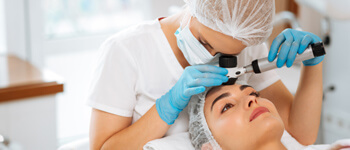 Skin infections can occur on your skin at any time, either due to certain medications or the use of specific skincare products. In such cases, it's wise to consult your dermatologist and seek the right solutions to treat your condition. Never self-medicate yourself as it can aggravate the underlining infection.
For expert guidance on skincare issues like inflammation, redness, and the like, you can quickly find a dermatologist near you at Skin & Hair Academy.