Summer is synonymous with sunburn. If you're out in the sun too much during the season, or fancy spending time at the beach, your chances of experiencing a sunburn, along with numerous skin problems in summer season, increase manifold. The general consensus regarding sunburn is that it's your body's first reaction to exposure from the sun's ultra-violet rays. However, did you know that the phenomenon of sunburn is your body's "defensive response" to the damage that's about to follow?
What you may think of as sunburns is nothing but your skin responding to the DNA damage that's caused by the sun's UV rays. They, in their entirety, aren't harmful like the many rare skin diseases you may have heard of, but you need to seek immediate help to reduce the risk of DNA damage and possible skin cancer.
What Causes Sunburn: The Science Behind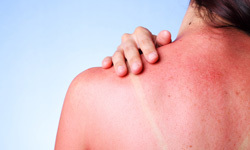 Unlike the various other types of ultra-violet radiation (both invisible and visible), the sun particularly emits two known radiations called UV-A and UV-B. Out of these two, UV-B is the radiation that makes your skin vulnerable to skin damage. When your skin in contact with UV-B rays, the group of dark pigments in your skin called "melanin" blocks the radiation and minimizes damage to your DNA. Simply put, the darker your skin, the less susceptible you are to UV-B radiation.
However, people with low levels of melanin run a higher risk of DNA damage, which eventually, causes sunburn as their body's immediate reaction to sun exposure. That, is why, people with a fairer skin tone experience sunburn more quickly than the ones who are comparatively darker.
Sunburn: Treatment and Cure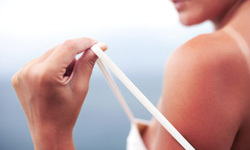 Sunburn can cause hurt, and feel very uncomfortable, which is why, you need to deal with it immediately. While a good-quality sunscreen (equipped with protection against UV-A and UV-B radiations) can help with prevention and minimize risk of skin cancer, the treatment options for it are as follows:
Aspirin or ibuprofen: As an immediate treatment for the excessive pain, redness, and swelling that follows a sunburn, consume an aspirin or ibuprofen to immediately seek relief. Both will soothe the inflammation and pain, and reduce swelling and redness.
Take frequent cool baths: It's simple; the opposite of a sunburn is exposing your body to a cold shower. Either stay for a solid 10 minutes soaking your body in a bathtub filled with cold water, or stand under the shower for a bit. Don't towel-dry your body entirely; leave a layer of water on your skin and apply moisture immediately. This will trap the water in your skin and ease the dryness.
Apply a moisturizer rich in aloe: Aloe vera is known to calm inflamed skin and provide moisturisation to dry areas. Either apply aloe vera juice directly from the plant, or slather a moisturizer or lotion rich in aloe vera all over the affected area. It'll reduce redness, and provide comfort.
If the sunburn doesn't respond to the afore-mentioned treatment options, go to a doctor immediately and seek professional help. For questions about your sunburn or to learn how to better protect your skin from the sun, sign up on www.skinandhairacademy.in today and book an appointment with a reputed dermatologist in your area.