Electroporation, or electropermeabilization, is a microbiology technique in which an electrical field is applied to cells to boost permeability of the cell membrane.
In the case of skin treatments, the skin is exposed to a light chemical field, which reduces the cell's wall resistance, making it easier to introduce DNA, RNA, chemicals or drugs into the cell. Chemical peels are made much more effective with the use of electroporation. Electroporation makes use of electric pulses
Electroporation For Skin Care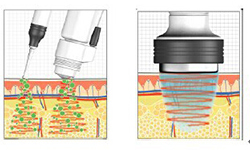 The theory of electronic perforation was established by scientists in research laboratories in Harvard University and the Massachusetts Institute Of Technology. It was developed to be applied to genetic tissues and in to administer anti-cancer medication, but the technique has now been evolved to serve dermatological purposes. By applying an electric pulse, it increases the penetration efficiency of the active ingredients painlessly.
Electroporation makes use of electric pulses, creating gaps in the stratum corneum layer of the skin so that beauty enhancers and medications can be introduced into the basal and dermis layers of the skin. Collagen, hyaluronic acid, and other substances can be administered deep into the skin painlessly and quickly without having to rely on needles.  For best results, it is recommended to perform a diamond-tipped MDA exfoliation prior to electroporation, in order to remove the stratum corneum and create favorable conditions for substance absorption.
Electroporation Face Treatment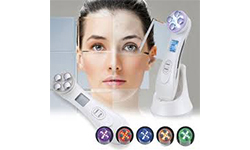 The process opens up the thinner channels of the epidermis via intercellular space lipids. This is what makes it a sought-after tool in medico-aesthetic applications because it allows for the better penetration.
Here's How It Works:
The current stirs the external skin layer cells which generates an opening and variation of spaces.
Through these openings, the product or substance can be spread throughout the skin layer.
Since the method uses alternating currents, there is a physical skin-cell rearrangement, and this creates new pores and channels while the current is active.
Unlike micro needling, electroporation is a non-invasive and painless alternative. It allows for topical drug application and is used to treat a variety of facial skin problems.
Facial skin resurfacing
Lines of expression
Localized adiposity
Pre and post plastic surgery treatment
Face and neck firming
Anti-aging
In addition to these treatments, electroporation can also be used to take care of breast firming, keloid scars, cellulitis, stretch marks,  flaccidity and more.
Electroporation uses specialized equipment that consists of 3 handpieces:
Facial applicator

Body applicator

Scalp applicator
Electroporation Side Effects & Benefits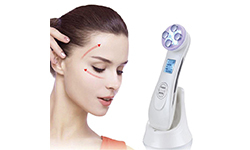 Electroporation is a painless, non-invasive therapy for better skin with no side effects. Here's why electroporation is a good option:
There is no electrical contact with the patient, no chemical burn hazard, muscular fasciculation, pain or swelling.
It administers iconic, non-iconic lipophilic and hydrophilic substances
It does not need a conductive gel
It is a practical and user-friendly method
results of the treatment remain effective for long