Soft and supple skin is a dream of every woman, and many efforts go in vain to achieve it. If you are one of those women who've waged a war against healthy skin for quite some time now, perhaps, you could consider a Chemical Peel. Before we get down to analyzing the types of chemical peels, side effects they can cause, and safety measures, let's first understand what they are.
What Is a Chemical Peel? [1]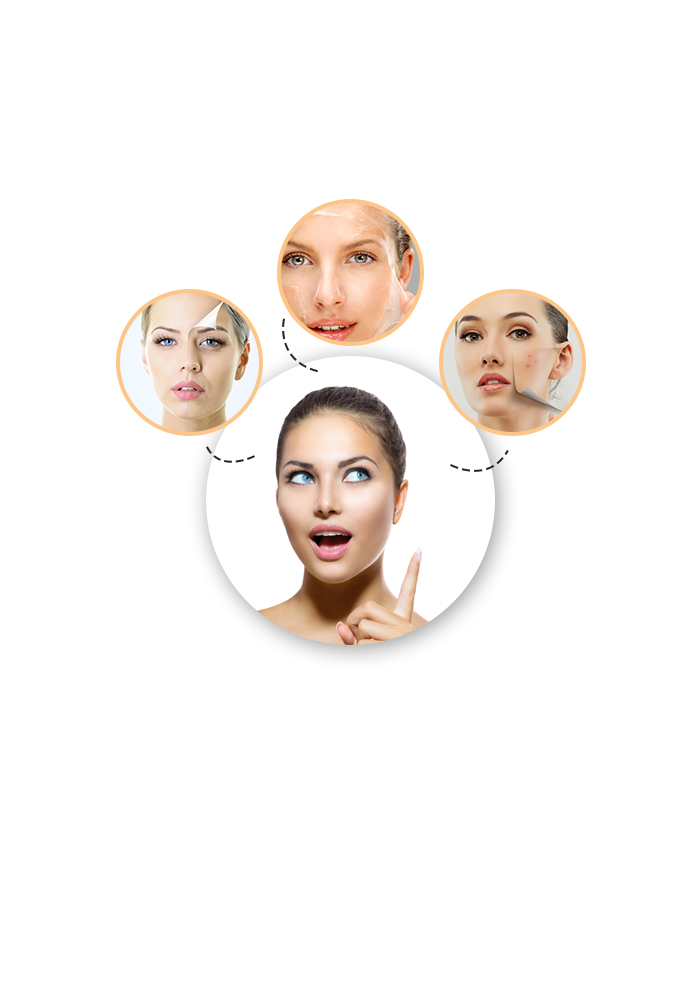 Chemical Peeling, also known as chemexfoliation, helps deal with skin damage by exfoliation through caustic agents. This is further followed by the secretion of inflammatory and cytokine mediators, which help in the deposition of collagen, thickening of the epidermis, and increase in dermal volume thereby improving skin texture. It reduces solar elastosis (an accumulation of abnormal elastin or elastic tissue in the dermis of the skin) and reorients and replaces the fresh dermal connective tissue. It can improve skin appearance and give you a youthful skin texture.
Types of Chemical Peel [2]
Lunchtime or Superficial Peel:
To develop the appearance of gentle skin coloration, Alpha-hydroxy acid, and some other mild acids are applied to penetrate only the outer skin layer to smoothly exfoliate it.
Medium Peel:
Trichloroacetic or glycolic acid is used to penetrate the outer and middle skin layers to eliminate damaged skin tissues. This procedure is useful in removing rough skin, freckles, wrinkles, fine lines, age spots, and moderate skin discoloration. It is also helpful in preventing some precancerous growths of the skin.
Deep Peel:
Phenol and Tricholoracetic acid are used to deeply penetrate the middle skin layer to eradicate damaged skin tissues. The procedure eliminates shallow scars, moderate lines, freckles, age spots, crow's feet, wrinkles and many other aging signs.
When Do Patients Need Chemical Peels? [2]
Chemical peels help deal with various skin conditions including:
Crow's feet
Sagging skin
Sun damaged skin
Aging skin
Wrinkles
Scars
Acne scars
What Are the Potential Adverse Effects of a Chemical Peel? [2]
Reactivation of cold sores
Scarring
Redness of skin
Burning sensation
Permanent or temporary change in skin color
Women who are taking birth control pills can face side effects like brownish facial discolouration, skin redness and many more
Are Chemical Peels Painful? [2]
It's only natural to think to yourself, "do chemical peels hurt" before going in for a procedure. The truth is, that chemical peel treatments do not cause pain, but sometimes people may experience a sting-like sensation. The peels are a combination of various gentle chemicals and acids e.g. lactic or fruit acids, glycolic acid, an alpha-hydroxy acid. Application of a peel may cause crusting, irritation, redness, and stinging but as it starts penetrating the skin, these problems usually go away.
Trichloroacetic acid is strong and is used in strong peels. These peels are known to eliminate pigmentation, superficial blemishes, and wrinkles.
Phenol is one of the strongest chemicals that peels and reduces wrinkles, crow's feet, and ugly deep lines on the face and neck. Strong peels naturally sting more than gentle chemicals and acids. They may cause irritation, swelling, and redness but the use of gels and creams will decrease the burning sensation. Patients should consult a doctor as soon as they start experiencing these problems.
How long does it take for results to show?[4]
Once the skin of a patient heals, they will notice the results! The duration of healing is from 1 day for a lunchtime peel to 15 days or more for a deep peel. For immediate results, a lunchtime peel works best!
Are Chemical Peels Safe for Pregnant Women?[1]
No. Chemical peels contain various gentle as well as strong chemicals and acids that are not healthy for the unborn baby. It is better to visit your health care provider before going for any type of skin treatment.
Things to avoid after a procedure [5]
Smoking and direct sun exposure after getting a chemical peel should be avoided as they can lead to unwanted adverse reactions, including scarring, skin infection, brownish marks and skin redness.
References:
[1] Evidence and Considerations in the Application of Chemical Peels in Skin Disorders and Aesthetic Resurfacing. [ONLINE] Available at: http://www.ncbi.nlm.nih.gov/pmc/articles/PMC2921757/. [Accessed 29 October 2015].
[2] Chemical Peels Information. [ONLINE] Available at: https://www.asds.net/ChemicalPeelsInformation.aspx#sthash.spfKjWNY.dpuf. [Accessed 29 October 2015].
[3] Chemical peels for acne and acne scars in asians: evidence based review. – PubMed – NCBI . [ONLINE] Available at: http://www.ncbi.nlm.nih.gov/pubmed/23378705. [Accessed 29 October 2015].
[4] Is a chemical peel the right choice for you?. 2015. Is a chemical peel the right choice for you?. [ONLINE] Available at: https://www.aad.org/dermatology-a-to-z/diseases-and-treatments/a—d/chemical-peel/is-it-right-for-you. [Accessed 29 October 2015].