Summer's here and the temperatures are rising! What better way to cool yourself than with some great drinks that are not just tasty but full of health and nutrition too? Cool drinks
Here are some great mocktail recipes that will help you beat the heat and keep you refreshed in those long, hot summer months!
1.Strawberry Lemonade
A big hit with the kids, this summer drink is easy to make, refreshing and filled with the goodness of vitamin C. Strawberries are a rich source of vitamin C, potassium, folic acid, and fiber. Lemons contain high quantities of Vitamin C while ginger aids digestion.
What do you need?
3 fresh strawberries, finely chopped
1 strawberry for garnishing
1 cup fresh lemonade
1 cup ginger ale
Some Ice cubes
Let's make the drink:
Take a tall glass, then mix the lemonade, ginger ale and ice cubes
Then, add the finely chopped strawberries into the mix
Stir well and finally garnish the cooler with the cut strawberry on top!
2. Watermelon Cooler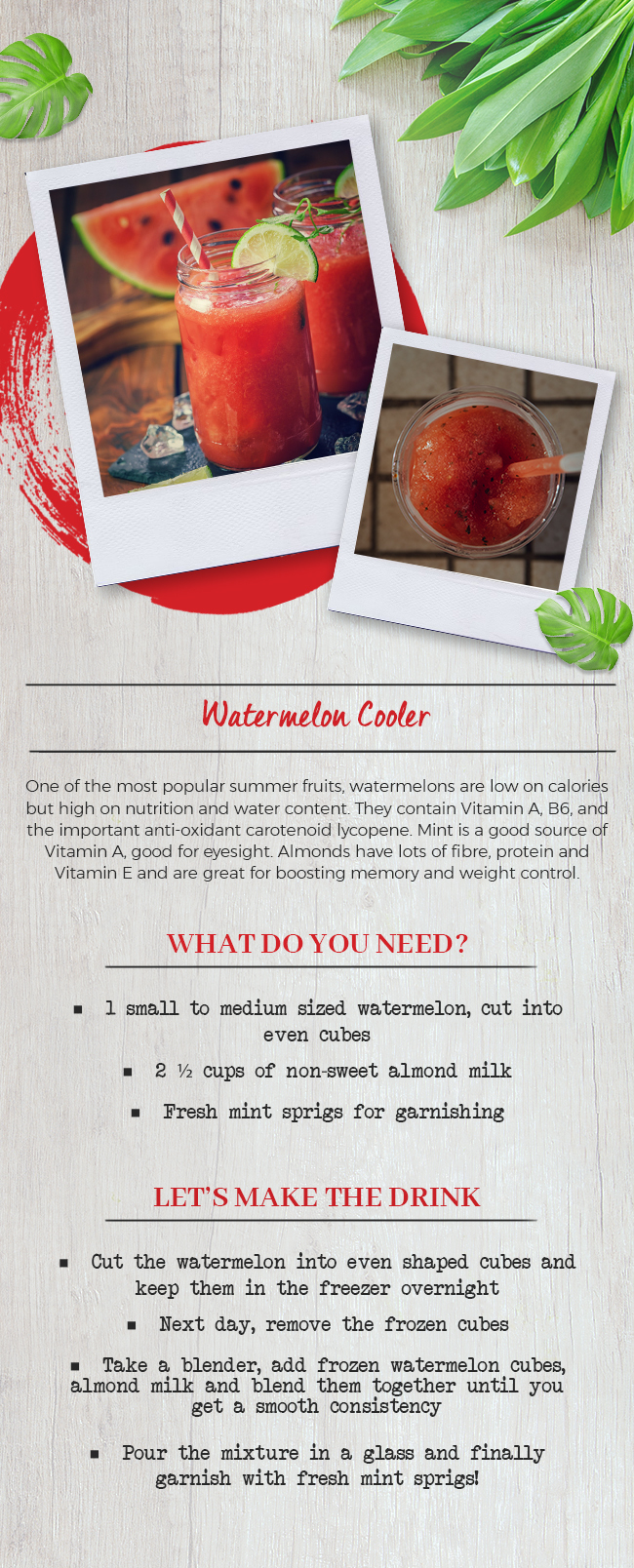 3.Fruit Punch
One of the all-time favourite drinks filled with the goodness of fruits! Pineapple is loaded with Vitamin C, A and manganese, a potent anti-oxidant. Oranges are super high in Vitamin C. Cranberries have anti-oxidant properties and are a good source of B Vitamins as well as fibre, Vitamin E & C.
What do you need?
1 chilled orange juice
1 chilled pineapple juice
1 chilled cranberry juice
1 chilled ginger ale
Juice of 4 large limes
1 sliced lime
1 sliced orange
Ice cubes
Let's make the drink:
Take a glass pitcher and mix orange juice, cranberry juice, pineapple juice and ginger ale and lime juice
Add ice cubes and mix well
Take a glass and pour the fruit punch
Finally garnish with a slice of lime and orange on top and serve chilled!
4. Lychee Mango Mocktail

5.Pineapple & Orange Punch
A blend of pineapple and orange is not just a revitalizing thirst quencher but an excellent Vitamin C booster. Add a dash of honey which is full of anti-oxidants, proteins and amino fatty acids and you have a power packed cooler just right for the scorching summers!
What do you need?
¼ cup of fresh orange juice
1 cup of fresh pineapple juice
A tsp of honey
Freshly chopped cilantro for the finishing touch
Crushed ice cubes
Let's make the drink:
Take a tall glass and first add crushed ice and pineapple juice, mix well
Then add orange juice and stir in one tsp of honey
Shake the mixture hard
Finish by sprinkling chopped cilantro on top
Serve cold!
6. Cranberry Cooler

7.Mango Smoothie
Mango, the king of fruits, is available only in the summer months and is savored with great relish in many forms. Mangoes contain Vitamin A which is not only good for eyesight but also good helps in making bones strong and healthy. Mint is a known natural mouth freshener, while curd contains calcium, vitamin D, protein and good bacteria. Combining mangoes with mint and curd, this smoothie is not just delicious to taste but loaded with nutritious value. A surefire hit with kids during the summer vacations!
What do you need?
½ cup or 4 tbsps of chopped mangoes
½ tsp clove powder (laung)
250 ml curd or yogurt
Sprigs of mint leaves
Ice cubes
Let's make the drink:
Take a mixer and add chopped mangoes, beaten curd and make a blend
Take a glass and put crushed ice at the bottom
Then, pour the mixture in the glass on top of the ice
Sprinkle clove powder and finally garnish with a sprig of fresh mint
Serve immediately!
8. Pina Colada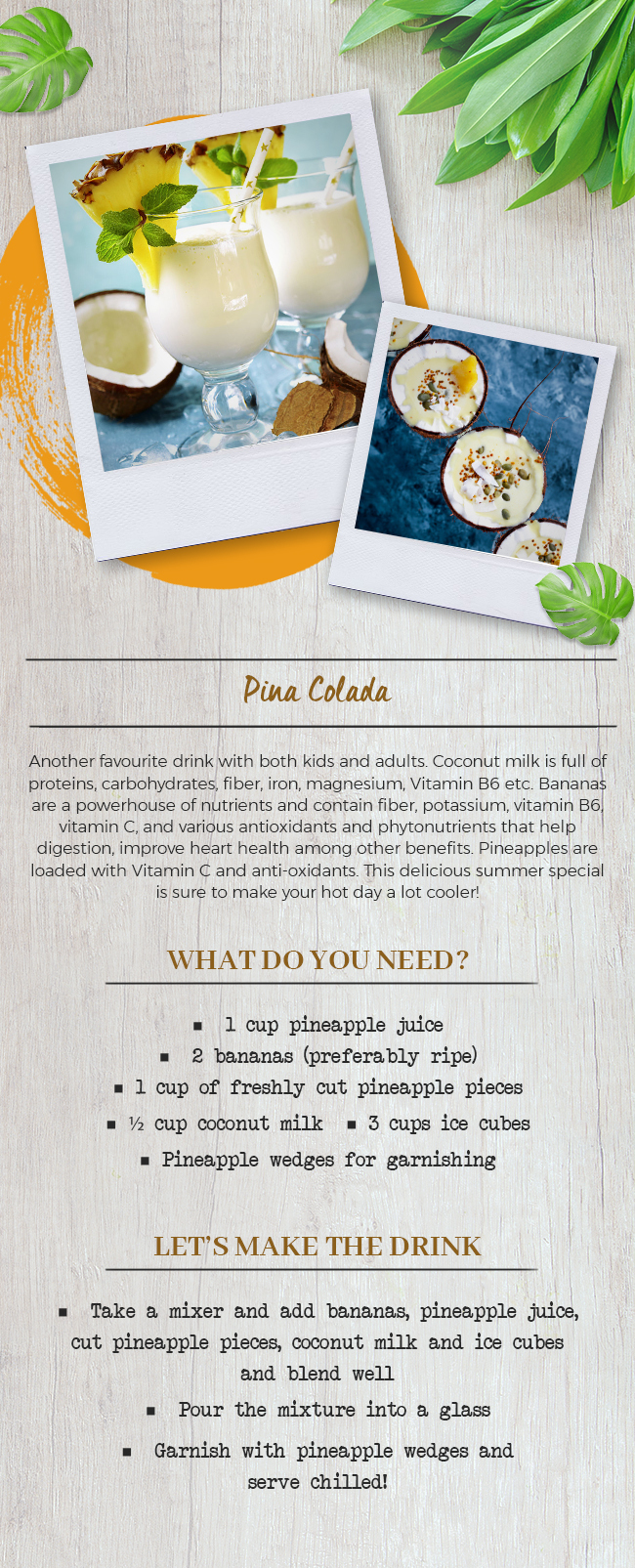 Our skin and hair requires special care in the hot summer months. We have already noted some great summer drink recipes to keep you cool and hydrated against the heat.
In addition to the drinks here are some general skin care tips, beauty tips for the face and tips on what to eat for healthy hair.
Skin care tips for glowing skin – Drink these summer coolers to keep your skin hydrated and healthy!
The scorching summer heat plays havoc with your skin leaving it dehydrated and dry. Make sure to use a good sunscreen before going out to protect your skin from external elements. But here are some cool drinks that will give you healthy skin and keep it hydrated from the inside!
Coconut Water – clears impurities and makes your skin glow
Mint & Ginger Green Tea Lemonade – excellent healing properties
Berries Smoothie (blueberries, blackberries, cranberries, raspberries & strawberries) – packed with anti-oxidants, hydrates the skin
What to eat for healthy hair?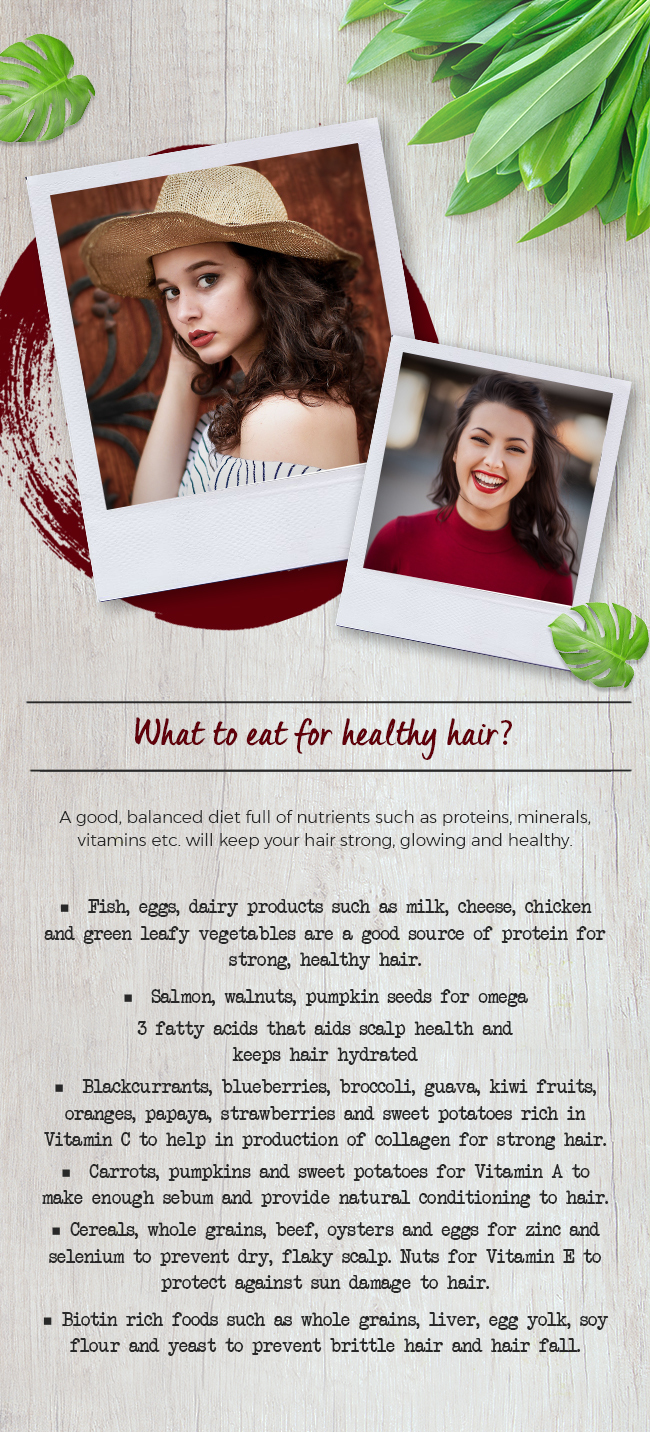 Nourkrin for all your hair fall problems
Beauty tips for face in the summer
Never go out without sunscreen
Drink plenty of water
Wash your face with a gentle face wash with cold water
Include anti-oxidants, cooling foods and drinks in your diet
Wear less make up
Exfoliate and tone your skin regularly
Cover your eyes and face when out in the sun
We hope you enjoy our summer cooler specials. Make sure you take care of your face, skin and hair in these coming summer months. In case you have any queries on skin care and hair care contact your dermatologist/skin care expert at
https://www.skinandhairacademy.in/
Video of the day