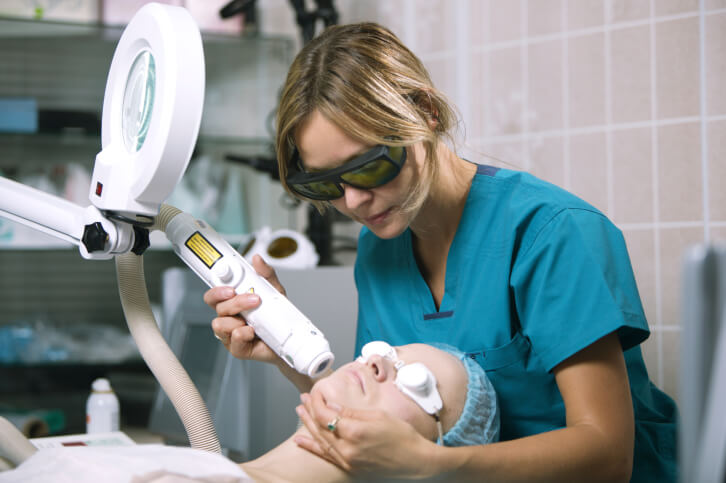 Cutting edge technology has revolutionized skin care. From treating skin ailments and healing scars to making the skin look younger and more beautiful, technology is all-pervasive.
Here's how technology solutions help deal with skin problems:
1. Electronic massagers:

The advent of different types of electronic massagers has made it convenient for people to enjoy glowing skin. These machines also help give your skin a good tone and keep it healthy.

2. Botox:

Botulinum toxin commonly known as botox is used to deal with wrinkles. Moreover if you have an issue with the way you smile, it can be corrected with a few injections of Botox. It prevents you from raising the upper lip excessively when you smile, thus giving you the perfect smile.

3. Problem-specific skin creams:

Technology has been used to develop different kinds of creams to treat various skin problems. From dry skin to pimples, there is a skin treatment cream available for every skin problem.

4. Fillers for hands:

For people past their 30s, hands can give away their age easily. Doctors recommend if the skin on your hand looks old, it can be dealt with by injecting fillers and by taking a skin-tightening laser treatment, of course under the strict supervision of your doctor. Laser treatment and fillers help tighten the skin.

5. Derma Fillers:

When you age, it leads to a loss in the volume of the face, which is what gives your age away. To avoid this embarrassment, your doctor can inject fillers in the empty space on either side of the face. This is done via an aesthetic procedure called dermal fillers.

6. Thermage treatment:

Ageing leads to sagging and crepe-like skin. To treat this condition, you could undergo Thermage treatment. This therapy uses radio-frequency to heat up your skin. The heat causes your body to produce collagen and helps it tighten the skin. The procedure can be painful at times but gives good results. [6]

7. Steam treatment for fat reduction:

Sauna baths and sauna belts are another mode by which you can reduce body fat. A sauna bath exposes your body to hot steam in a closed room under the correct temperature. This steam makes the body sweat and helps in reducing fat.
These are not the only ways in which technology has helped with skin treatments. Although technology goes beyond these procedures, one needs to be careful with it. If used inappropriately, it can have adverse effects too. It is highly recommended that you consult your doctor before undergoing any kind of skin treatment.